KANSAS CITY, Mo. — First of all we're only in the beginning of our snow season in KC. We have opportunities really through the middle of March. To be fair, we can get snow into April, but it's a lot rarer around these parts. So we have two months to go really, and the maps aren't too thrilling for snow lovers through the middle of the month, if not beyond that.
Too much mild air again will be present with occasional cold shots, with few impactful winter systems to affect our region. There is snow out there, don't get me wrong. Heavy snow and ice is an issue today across parts of Nebraska, South Dakota, and Minnesota. So it's there. Just not here.
The rains though were here, in some cases well over 2 inches for parts of the metro after several waves. Rain and thunderstorms moved through late yesterday, connected to a storm that is just north of the KC region this morning.
+++++++++++++++++++++++++++++++++++++++++++++++++++++
Kansas City Forecast:
Today: Generally cloudy with perhaps a few thin spots in the clouds every so often. Blustery and chilly with readings slowly falling into the upper 30s later in the day.
Tonight: Clouds and blustery. Temperatures near 30 degrees.
Tomorrow: About the same, near 40 degrees.
Thursday: Perhaps a bit more sunshine with clouds. Near 40 degrees.
++++++++++++++++++++++++++++++++++++++++++++++++++++++
Discussion:
Because of the timing of the cooler air infiltrating the area this morning, our official high for the day will be 57 degrees. Yesterday we gradually warmed up all evening to 57 degrees before midnight. It's a remarkable stretch of milder weather after the coldness of near Christmas.
As a matter of fact, the period from the 23rd to 26th (four days) was the third coldest.
Now look at the same four days. Just from the 29th through Jan. 2, total flip to the fourth warmest.
Add in today's 57 degrees and late night lows in the 30s and odds are we're even higher than that.
Weather whiplash for sure.
The rains that came yesterday were heavy and accompanied by lot of lightning and thunder. Very little hail, but there were a couple of isolated reports of some smaller hail on the Missouri side. Here are some of the rain totals.
We actually set a record for yesterday's date for the most precipitation in KC: 1.08 inches fell. The average for the month is 1.16 inches. We picked up about a month's worth of rain in about six hours.
Weather around the U.S.
This morning, the storm is across the Plains. In the colder air mass north of the storm, it's snowing really good this morning.
Ice storm and winter storm warnings are in effect for the region up there.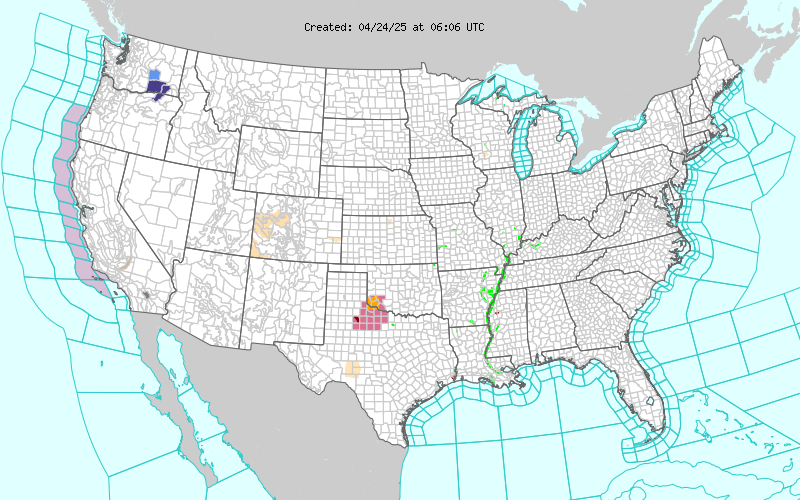 Meanwhile as of this writing, Tornado Watches are in effect for parts of the Tennessee Valley with numerous Flash Flood warnings as well.
Also of note is what's happening and will happen out west. California is really going to have some big issues with flooding over the coming two weeks as streams of moisture connected to atmospheric rivers pound the state, especially the northern half. Historic rains are possible there and significant higher-elevation snows. They've already had some significant rains this past weekend with bad flooding. More is coming. It will help fill the reservoirs, but it may be too much of a good thing.
More on that tomorrow.
Snow in KC so far this winter
Back to the subject of the blog.
So here we sit with a whooping 1.7 inches of snow officially up at KCI this season. I'm not expecting much for the next week. There is a system to possibly watch for late Friday night into early Saturday morning, but it's marginal for us really. So let's just assume very little additional snows occur through next Tuesday (probably longer than that). So this is where we will stand through the 10th.
We'll be roughly in the top 25 for the least amount of snow through the 10th. Ahead of this season is: 2001-2002; 2006-2007; 2002-2003; 2011-2012.
In all those cases, the snow season ended up with below-average snows… well below average.
2001-2002: Total snow for the season: 8.6 inches
2002-2003: Total snow of the season: 9.4 inches
2006-2007: Total snow for the season: 10.2 inches
2011-2012: Total snow of the season: 3.9 inches
That doesn't bode well for the upcoming two months for snow lovers.
As I mentioned, I'm not too thrilled but the prospects of anything too significant for the next seven to 10 days, perhaps longer.
The same pattern that will allow these big rains to develop and persist in the western U.S. will overall flood the country with milder air in most areas.
So when I see the longer-range forecasts, off the ensembles with so little snow for the next 15-16 days, I'm not overly surprised.
Both these charts go through the 18th-19th. That isn't good for snow lovers at all.
The chance isn't zero though. With little snow-producing cold to work with locally, it would take the storm taking the right precise track to chill things down to get a sloppy snow to come together. Again the chances of that happening don't appear great at this point for 10-plus days out.
At some point this will change. We just may be waiting until the last 10 days of the month.
The feature photo comes from Ben and his drone over the Plaza.
Joe