KANSAS CITY, Mo. — There are actually a few showers out there this morning this morning… drought showers. What are they? Well sort of like yesterday, areas of rain that move towards the metro and sort of just start evaporating as they come into KC.
That was prevalent yesterday and may be again this morning for awhile. Sure, some may get some light rain from this, but it appears many may just get a few sprinkles, if that.
Yesterday, Lawrence, Kansas, got about 1/4 inch of needed rain. Then the rain mostly hit a wall and went poof. Some areas south of the metro had 1/4 to 1/2 inch of rain, but KC went lacking for the most part.
I had higher hopes for the wave coming into the area this morning a couple of days ago. Now the focus is on a summer-like weekend with breezes and higher dew points. Rain chances in KC don't look overly great this weekend. Not zero, but not great.
++++++++++++++++++++++++++++++++++++++++++++++++++++++++++++
Kansas City Forecast:
Today: Scattered showers possible this morning, especially on the Kansas side. Variable clouds today with highs in the low to mid-70s.
Tonight: Mostly cloudy and mild with a small chance of a few early morning showers/storms. Lows in the upper 50s.
Tomorrow: Breezy and getting hotter with highs surging to near-record levels. The record is 89 degrees set in 2004. We may get close. Winds increase and gust to 25-plus mph.
Sunday: Same, with a small chance of a storm or two later in the afternoon/evening and better chances towards central Missouri and eastwards. Highs approach 90 degrees. The record is 92 degrees set in 1934.
++++++++++++++++++++++++++++++++++++++++++++++++++++++++++++
Discussion:
I think the biggest weather story, aside from the building heat this weekend (you'll definitely feel that) is the developing and expanding drought that is creeping northwards.
The latest drought report came out yesterday and I was surprised to some extent by the rapid decrease in conditions from one week to the other.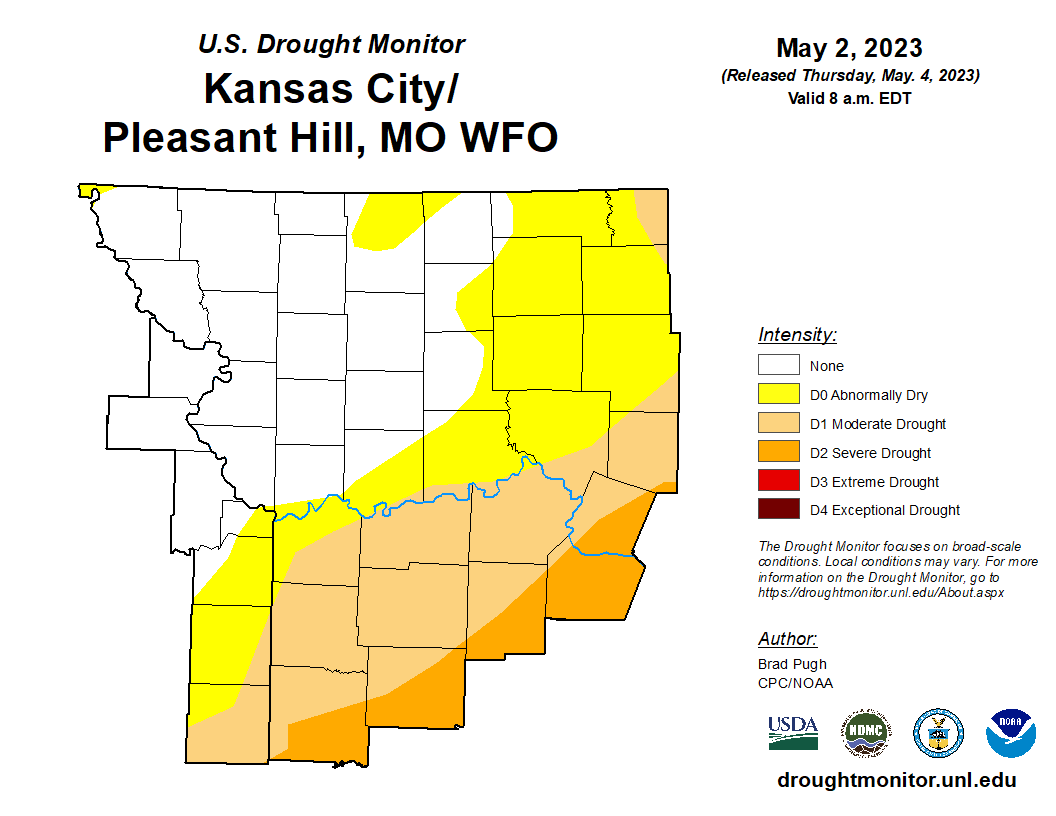 Notice the "moderate drought" conditions now up into the southeast side of the KC metro area, including Jackson and Cass counties among other areas. "Severe" drought conditions have increased into the Lake of the Ozarks region.
On the Kansas side, there hasn't been a lot of change, although some areas in western Kansas saw a incremental improvement.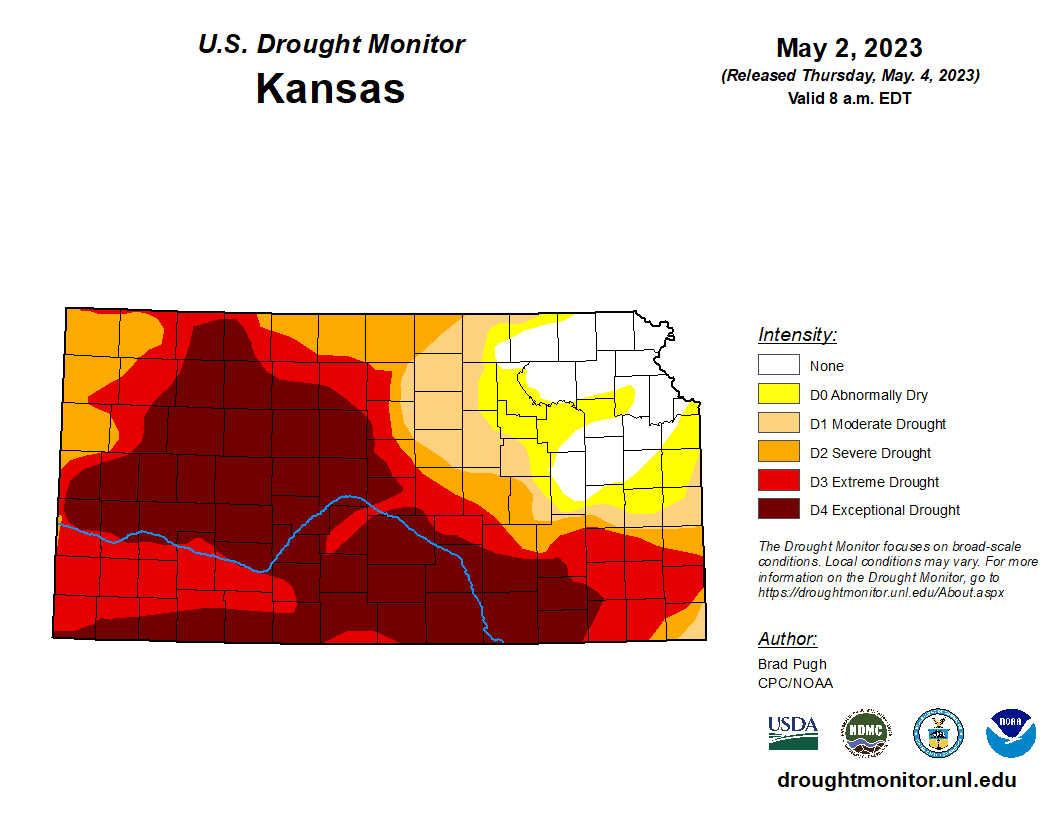 Obviously we are really getting into a situation that we need some moisture and not more drought showers. Yesterday the rain was there, just not here really. Here are some of the totals via the Community Collaborative Rain, Hail and Snow Network.
Again though for the metro, a few drops here and there. Some snuck in about 1/10 inch in Johnson County, Kansas.
That is becoming a bigger issue by the day/week. The hope this week was that the rain from yesterday would sneak towards the State Line area, but I had a feeling it would fade. The hope also was that the rain this morning would be beefier. I started losing hope on that potential yesterday as well. So here we are.
Now the heat will start to increase and expand northwards into the region rapidly tomorrow. Temperatures should soar to near-90 degrees in the afternoon with a potential record high on the table as well with increased winds. The heat this afternoon will be building down across Texas and parts of Oklahoma with 90-95-degree highs, which then spreads towards the metro tomorrow.
Dew points will be roughly in the 60-65-degree range, so the heat index will be a few degrees hotter. Fire up those A/Cs this weekend!
As the heat bursts in tomorrow, areas towards northeast Missouri may be vulnerable to some thunderstorm activity if anything can get fired up. The atmosphere there will be very unstable, so there is a risk of severe storms in parts of Missouri tomorrow.
Then the next day:
Weather next week in KC
Next week looks warm. The average high for this time of the year is in the low 70s and each day next week looks to be in the mid-80s.
Back to the rain situation: There will be chances next week, just nothing really concrete to hang your hat on at this point.
On another note, there won't be a lot of severe weather chances either next week it appears locally at least.
Have a great weekend and stay cool!
The feature shot if of the Cinco de Mayo sunrise from this morning.
Joe