KANSAS CITY, Mo. — Well maybe the car washing trick finally worked, or the fact that I got the yard mowed yesterday afternoon as the clouds were building up. Whatever, it finally rained!
Some areas got a ton of rain, localized with over 3 inches in spots. Other areas got about 1/4 inch, but it was a generous coverage rain that was pretty welcome by most.
There's still lighter rains out there as I start this blog this morning, and that may be with us for awhile today off and on in nature. Amounts look to be mostly under 1/4 inch or so.
The other thing about today is the chillier temperatures. A northeast wind combined with falling rain isn't a great combination for a warmup and our high today in the upper 60s actually occurred near the midnight hour.
++++++++++++++++++++++++++++++++++++++++++++++++++++
Kansas City Forecast:
Today: Cloudy with showers around and cooler temperatures. Highs only in the lower 60s or so. Maybe, some may stay in the 50s all day. Showers may be a bit more infrequent this afternoon with less coverage.
Tonight: Still a chance of some showers around. Temperatures in the 50s.
Tomorrow: Lots of clouds and another day with a struggle to warm up. Highs may be in the mid-60s.
Wednesday: Sunny and pleasant with highs approaching 80 degrees.
++++++++++++++++++++++++++++++++++++++++++++++++++++
Discussion
Let's start with some rain totals, with some a close-up view as well:
Here is some ground truth via Community Collaborative Rain, Hail and Snow Network. Northern Missouri did well too.
So it was "mostly" a good rain for us. Some areas did miss out on the more generous amounts. Radar this morning shows there is still some rain out there as well.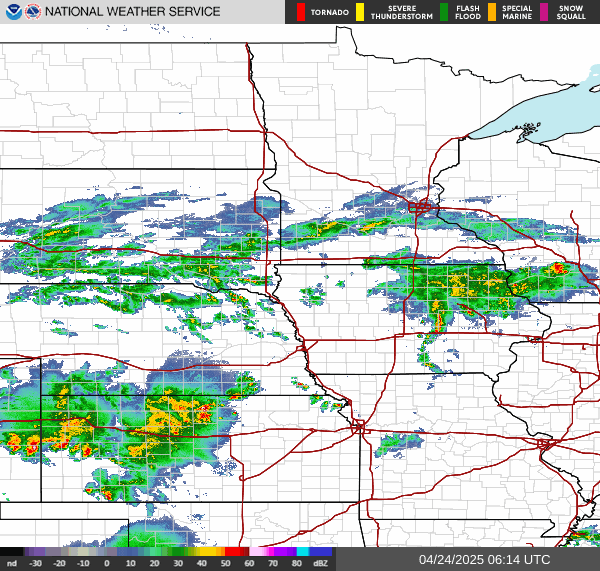 One thing for sure is there are a ton of clouds around too.
Those clouds are going to be an issue for the next 24+ hours…the surface map shows the cooler air sort of right on top of us.
This cooler air mass won't modify much tomorrow either, although hopefully we get some later afternoon May sunshine to help things out a bit.
This is really a speedbump into what should turn into a great week of weather here. There is an exception and that is another decent chance of rain coming on Friday.
Friday rain chances in KC
The Friday rain will be connected to a rather strong mid-May cold front that will be moving through setting the stage for a great upcoming weekend with cool temperatures (for May) and even cooler mornings (for May).
The next front should move through sometime Friday afternoon or so. Ahead of the front, we'll be warmer on Wednesday and Thursday. The front should give us more rain on Friday and then much cooler highs on Saturday (near 70 degrees) and milder on Sunday (mid-70s).
Something for us at least that is still a bit of an anomaly is the lack of widespread severe weather in the region. The front on Friday may not be able to do a lot for that aspect of things and the upcoming pattern into the weekend certainly will not be favorable for stronger storms. So here we are heading into the end of May with very little local severe weather risks and I'm OK with that. As a matter of fact, into the longer range I don't see any concrete change to that for us at least.
These last severe weather seasons, going back to 2020 have been strange in my opinion. KC really has lucked out year to year since 2019's Linwood, Kansas, tornado. Sure there have been things here and there, tornadoes here and there (mostly weak), but we've avoided some real nasty setups for whatever reason and that may continue for quite some time locally for the metro.
Weather around the U.S.
Elsewhere the nasty heat has set up for now in the Pacific northwest and into western Canada where fires are raging. We may see enough of a flow change in the atmosphere to perhaps see some smoke around these parts from the fires down the road perhaps towards the weekend.
Here are the record highs from yesterday out there.
And some more:
There should be a pattern change out there in about a week or so.
Finally there's this article about tornadoes I thought was interesting.
The feature photo is from Matthew Smith down towards Warrensburg of a shelf cloud from yesterday.
Next blog update is Wednesday.
Joe