KANSAS CITY, Mo. — Well, March is going out like a lion around the region, with storms this morning for some areas, and strong winds for all areas expected today. The winds are going to be a thing, especially this afternoon, with 50 mph wind gusts possible. Also the air mass, which this morning is moist, will be replaced by a much drier air mass this afternoon, and that's when the winds will be cranking at their highest.
The chillier air with this storm will move in overnight. The temperatures tomorrow morning will be about 30 degrees colder than this morning. It will be a brief shot though as we moderate rapidly Sunday into next week, with another potent storm due in on Tuesday.
April starts out busy as well.
+++++++++++++++++++++++++++++++++++++++++++++++++++++++++
Kansas City Forecast:
Today: Scattered showers/storms possible through lunch, then most of the activity shifts towards central Missouri and beyond. Highs well into the 70s with sunshine in the afternoon. Winds will be 45-55 mph (not connected to storms).
Tonight: Turning colder with variable clouds and lows in the low-to-mid 30s. Gusty winds will create wind chills in the 20s.
Tomorrow: Sunny and breezy in the morning with lighter winds in the afternoon. Highs in the mid-50s.
Sunday: Warmer and breezy again with highs back into the 70s.
++++++++++++++++++++++++++++++++++++++++++++++++++++++++++
Discussion:
A busy day around the Plains and especially towards the Mississippi River Valley region towards central and eastern Missouri and points beyond with an intense area of low pressure moving through Iowa today.
You can easily see the storm on the surface analysis. The black lines below are isobars or lines of equal pressure.
The storm will move through Iowa today. There are several air masses associated with this storm including an warm moist air mass that's flowing through the region this morning. A drier air mass that will rapidly move through near or after lunch. Then the colder air mass will move through the region overnight.
You can see two of the air masses on the dew point analysis this morning. Dew points locally are "March tropical" here in the Plains with a fast drop off towards central and western Kansas.
From a temperature standpoint, you can see the colder weather in Nebraska (20s) and points north. That will get dragged through the region this evening and overnight.
The whole thing put together roughly looks like this as of 9 a.m.
Once that transition moves through, the severe weather threat (which isn't the greatest for the metro) will end as drier air surges into the region.
As that dry punch pushes east and into the better instability towards central Missouri, the threat of bigger storms may develop.
Which areas will get severe weather?
If you watched last night, I identified for you this morning threat for areas southeast of the metro and indeed we've seen a few storms have the ability of generating some hail. So that short-term forecast worked out very well. There have been some severe thunderstorm warnings issued this morning and some penny to dime-sized hail out there with the cells.
Kansas City is still not in a prime spot for severe storms with this. The risk of storms will move away after lunch. This is sort of common with these early season setups. For areas east of KC, the setup is more favorable this afternoon.
The Storm Prediction Center has this idea:
Model data this morning shows shows this idea towards noon.
The storms would be moving towards the northeast at close to 60 mph. They're fast cells so if you get rain, it won't be for long. Many areas many not see a drop of rain from this.
By 2 p.m. we have this:
By 3 p.m. dew points are crashing:
You can see the outline of the Wind Warnings here, although should severe weather crop up, some of these colors will be overridden.
The counties in pink are in the Wind Advisory. The counties in burnt orange are in the High Wind Warnings.
Weather around the U.S.
Meanwhile on a regional basis there is growing concerns about higher-end severe weather threats towards the Mississippi River valley with level 4 risks out towards eastern Missouri, Illinois, Iowa and elsewhere.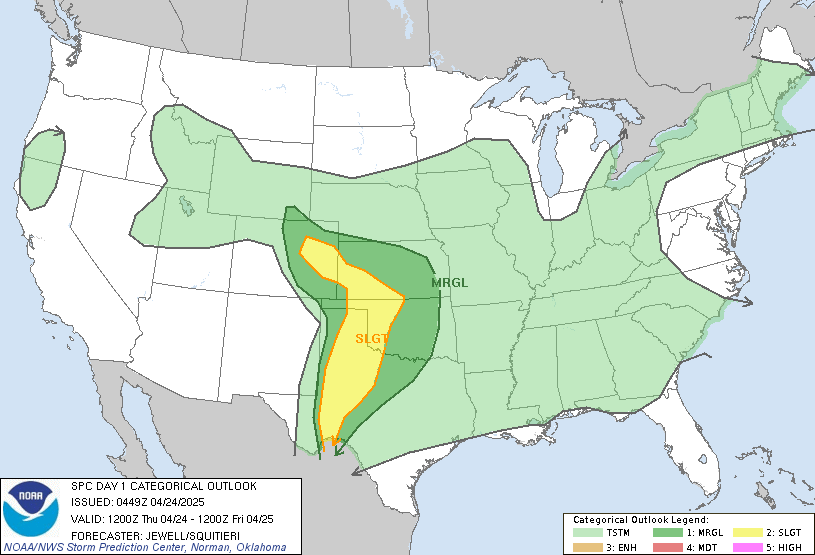 A large swath of territory is being highlighted by a stronger risk of tornados.
There are some failure modes with some of this though. I'm curious to see what this morning wave does when it flies through Missouri towards the Mississippi River later this morning. It could mess things up. Then again, it's moving so fast that there could be atmospheric recovery to create some bigger storms there.
By 6 p.m. tonight, this is a possible near solution:
What is fascinating is that there may be severe storms in eastern Iowa today with temperatures into the 70s, and then tomorrow morning it could be snowing and blowing, reducing visibilities for a couple of hours.
KC rain chances next week
Temperatures today will be popping into the mid-70s. Then tomorrow struggle in the mid-50s or so, maybe upper 50s.
We then rapidly warm back up again Sunday. There may be some additional non-severe storms in the area on Monday knocking things down before we surge, potentially into the 80s on Tuesday, when the next storm that may do all of this all over again. The Storm Prediction Center is watching Missouri again especially.
It appears after the Tuesday system, we may start trending chillier again for about five-plus days, so that will take care of severe weather risks again for awhile.
The feature photo comes from DeAnna Blair out in Shawnee, Kansas. It's "springing" out there, but remember there are likely more hard freezes coming.
Joe