We had a chilly start this morning with lows down into the mid to upper 20s. Lawrence and St Joe, notorious for dropping more on these clear/light wind/dry air nights tanked to 22°. Those sensors are also in valley areas so they tend to be colder than others. You get the point though…it's chilly to start the day.
The good news is bright sunshine and lighter winds today should allow that same dry air to warm up pretty well. Still below average but we'll get to or exceed average over the coming days as we settle into some nice weather with minimal rain chances for awhile.
Thankfully there is no severe weather expected for awhile!
+++++++++++++++++++++++++++++++++++++++++++++++++++++++
Forecast:
Today: Sunny and pleasant. Highs in the upper 50s
Tonight: Clear and chilly with lows in the low to mid 30s
Tomorrow: Sunny and milder with highs in the low to mid 60s
Saturday: Sunny and pleasantly mild. Highs in the mid to upper 60s
Sunday: Highs near 70 with a few more clouds
+++++++++++++++++++++++++++++++++++++++++++++++++++++++
Discussion:
Basically some nice weather is coming for awhile. There will be perhaps a few showers around heading towards Monday…but aside from that there won't be a lot of significant weather coming our way for the next week to perhaps 10 days or so.
So we'll also start drying out heading towards mid month too.
The longer range forecast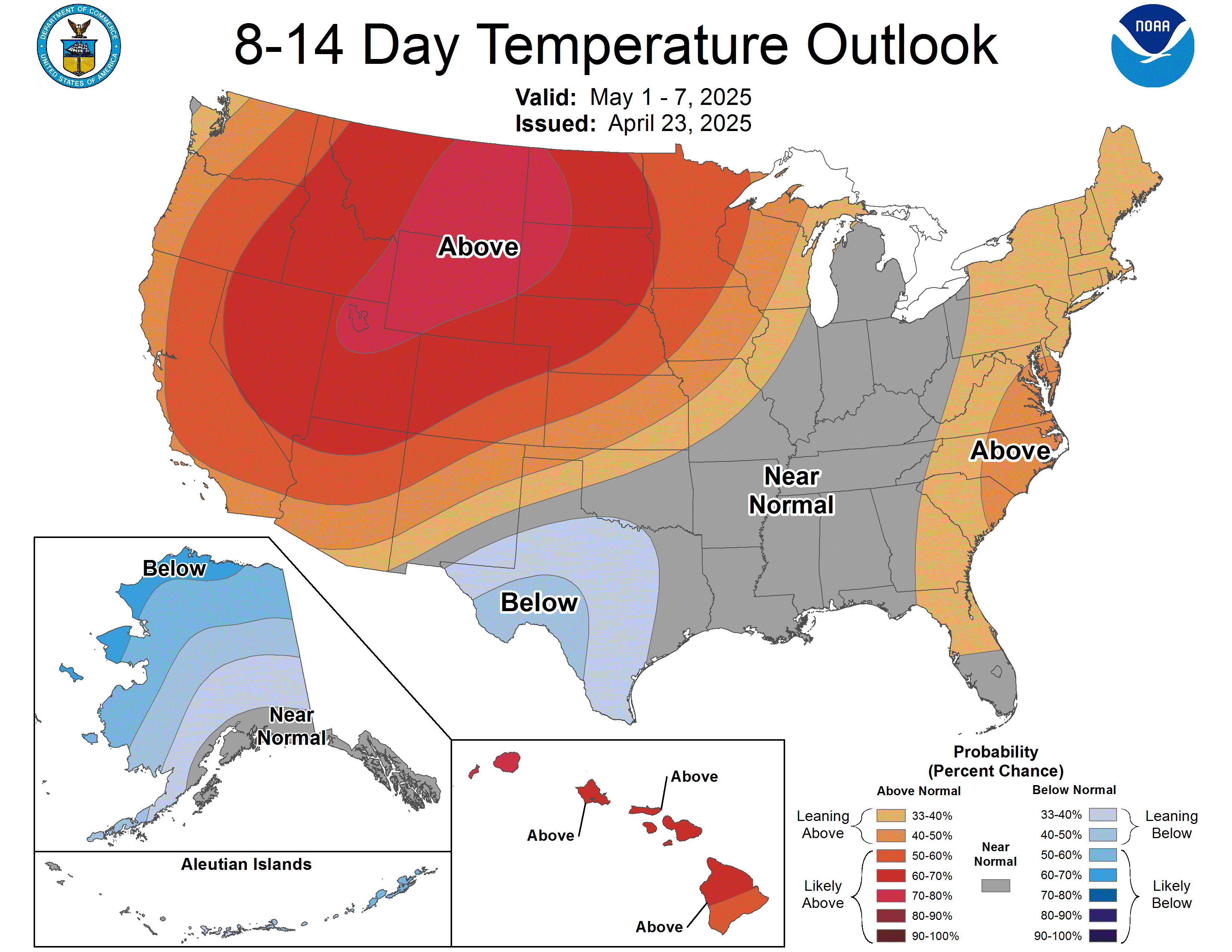 A lot of folks are going to get real itchy to do some planting…so here are some stats for you regarding frosts and freezes. It's always tough to determine the last frost date I feel. We can have frosty mornings when the temperatures are 36° or slower…so let's use that as a benchmark.
Data is for KCI…
Last <=36° is on average 4/20
Recently these were the last dates…
Now <=32° which is 4/8
Now <=28° which is considered a hard freeze…especially if it goes for 3 hours.
The average is 3/29. So today's low of 27° is a week later than average.
So while the forecast overall remains mild after tomorrow morning
and there are no signs of any real cold coming back through late April…we can still get frosts into early May around these parts.
We typically suggest waiting to Mother's Day weekend to have at it.
It is increasingly likely that this may have been the coldest morning that we'll see until next fall though.
Finally some tidbits…no blog tomorrow since I'll be off and if the weather is this calm next week there will be reduced blogs as well.
The western snowpack is something else…take a look at the difference from year to year out there.
Another area that has been pounded with snow this winter is the northern Plains…
The Twin Cities in MN are close to 90″ which is 41″ above average. Duluth is up to 131″ which is 49″ above average and almost 50″(!) above last year to date.
Salt Lake City is up to 87″ which is 38″ above their average and about 38″ more than last year to date. as a matter of fact the states snowpack has broken a record for being so high that goes back through the 1930s. There are some differences though in record keeping that may influence that but still it's impressive
Now they start melting…warmer days and higher sun angles will really start to melt away that snow…hopefully helping the Lake itself to some degree…because that is another Lake in crisis there because of many reasons including the drought that has messed things up there.
Speaking of snow…this one snuck in yesterday.
And finally severe weather. Settling down for many for awhile but their still counting tornadoes from last Friday's outbreak.
It term of tornado counts…and again these numbers will be whittled down…this is a very active start to the season.
Joe