This is an archived article and the information in the article may be outdated. Please look at the time stamp on the story to see when it was last updated.
The photo messaging application Snapchat allows users to take photos, record videos and add text to a controlled list of recipients. The main users of the app, teens, can set how long they want the recipient to view the information to upwards of 10 seconds. After the set time, it's deleted from the app and the viewer can no longer see the sent items.
So, how do you better monitor your kids' online presence? Here are a few options for parents to help track their kids' movements in the digital space:
SOCIAL SCOUT
According to their website, "SocialScout is an online Parental Intelligence System that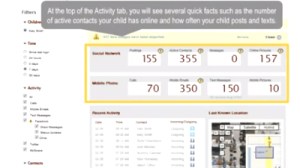 helps you monitor and quickly analyze your child's social networking and mobile phone activity while safeguarding their privacy and reputation on sites such as Facebook, MySpace and Twitter."
It provides daily activity reports online and via email to parents.
In addition to social media monitoring, the website translates "text lingo" and "slang terms" being used by kids online.
COST: Varies depending on services you purchase
MORE INFO: http://www.mysocialscout.net
NET NANNY
Net Nanny allows you to view not only what your children could potentially be viewing on their desktop computer, but also their smartphone or tablet. Depending on the service you
choose, parents have the chance to set-up web filters, safe search and browser settings (which can even replace browsers found on smartphones and on the home computer).
Net Nanny Social allows parents to take their control of their kids' online presence one step further, by allowing you to see exactly what your children are doing on Facebook, Twitter, Google+, Tumblr and LinkedIn. Parents can set-up notifications, receive reports, and even access the list of friends your children have online. That service is a separate annual cost in addition to the other Net Nanny products.
COST: Windows/Mac OS: $39.99/year; Android: $12.99; iPad/iPhone/iPod: $4.99; Net Nanny Social: $19.99/year
MORE INFO: http://www.netnanny.com
MY MOBILE WATCHDOG
My Mobile Watchdog is strictly for the phone and allows parents to monitor phone calls, text messages, picture messages and track your child via GPS location, their website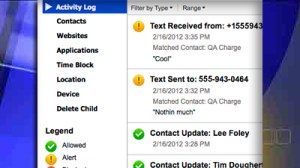 said.
Like other services, you can receive alerts via text or email. However, this service is for currently for Android phones only (and some options are also available for Blackberry phones.)
It gives parents the option to "block" times the phone can be used, logs all websites visited — even alerting you if a website listed as "blocked" has been entered — and can also block applications.
COST: $4.95/month* (for limited time)
MORE INFO: https://www.mymobilewatchdog.com
TEXT GUARD
If you're curious what your children are texting, then TextGuard might be the solution to you. However, it only currently supports Blackberry, Windows Mobile and Android phones.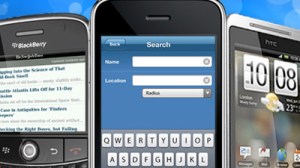 TextGuard collects and archives text messages allowing you to search at a later time. In addition, users can "flag" certain words for alerts.
While TextGuard is mainly used by huge corporations in order to track high-profile clients, single versions of the program are available, however you must contact the company directly for a price quote.
COST: Varies
MORE INFO: http://www.textguard.com/