This is an archived article and the information in the article may be outdated. Please look at the time stamp on the story to see when it was last updated.
Update: Police have temporarily delayed the news conference. It is expected to start around 12:50 p.m.
[protected-iframe id="4379fa96056e36f7a9f61ec4570705d3-28016812-3573043″ info="http://player.ooyala.com/player.swf?embedCode=xkM2g1NDrFWfkc8BZ_8LHbTMo1kiojPf&version=2″ width="640″ height="360″]
KANSAS CITY, Mo. —  Police arrested a man Thursday evening who they believe is Kansas City's so-called 'highway shooter,' and on Friday prosecutors and investigators have planned an afternoon news conference to reveal more about their investigation and the suspect.
WATCH in the PLAYER ABOVE.
FOX 4's Robert Townsend spoke with the father of the man police arrested late Friday morning. He said his son is innocent.
"My son is not the highway shooter," he said. "I don't think he did what they are accusing him of. He is not a murderer or a shooter. He's not a violent person."
The man, whom FOX 4 is not naming until charges against his son are formally announced, said he talked to his son a couple of weeks ago.
"We last talked April 7th, and everything appeared to be normal," he said. "He asked to borrow some money."
Kansas City Police Chief Darryl Forte said prior to the arrest, investigators had the suspect under 24 hour surveillance.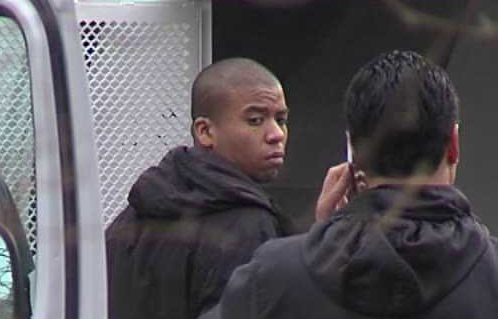 Investigators from the ATF, FBI and area police departments assisted in the investigation and are expected to participate in the news conference at the Emergency Operation Center at 635 Woodland in Kansas City, Mo.
Click here to watch the news conference on your iPhone or iPad or watch in the player above, or on FOX 4 News on your television.
On Thursday, police vans and cars descended on a Grandview neighborhood for the take down of the highway shootings suspect.
There have been more than 20 highway shootings reported since March. Police say they have linked 12 of those shootings in which three people were injured.
"We wanted to make sure the residents and those who travel through Kansas City know that they are safe and they have been safe the whole time," said Chief Forte. "If you've paid attention there have been marked and unmarked cars on the highways. So we want people to know they are safe. We have a person in custody and he has not yet been charged."
After the arrest, Kansas City police called in a tow truck to haul away a green Dodge Neon with out-of-state plates. The car towed away matches the basic description some of the highway shooting victims were able to give police early in the investigation.