This is an archived article and the information in the article may be outdated. Please look at the time stamp on the story to see when it was last updated.
OVERLAND PARK, Kan. -- It's an embarrassing problem that often hits men over 50.
That's a certainty for men who've had prostate cancer surgery, many of whom suffer from the side effect of urinary incontinence. But an Overland Park-based urologist has developed a new procedure that's helping men restore their confidence.
It`s being called a revolutionary procedure that`s restoring older men`s strength. The new PROAct technique is being used at Mid-America Surgery Institute in Overland Park.
Dr. Steve Nash helped develop the procedure to help men who suffer urinary tract incontinence after having prostate glands removed, which serve as a means of resistance in helping men control the urge to urinate. Inserting a surgical balloon beside the urethra replaces the prostate and gives the urinary tract a new source of resistance, and thereby, helps the patient control himself.
"The beauty of the procedure is its simplicity," Nash said Friday.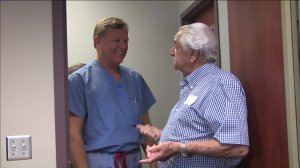 Nash helped develop PROAct 10 years ago, and its recently been approved by the American Medical Association. Nash is believed to be the first American surgeon to perform the procedure, and the only doctor in the Kansas City metro using the technique. He said he's trained a handful of surgeons from outside the Kansas City metro to perform the surgery, which is designed to help men avoid embarrassing wet pants and adult diapers.
Nash said the entire surgery last 20 minutes at most. A video clip provided by Uromedica, the company that creates the surgical balloons, shows the surgery. Doctors make a small incision in the man's private area, which allows them to insert the balloon with minimal invasion.
Nash said most patients are seeing at least a 50 percent improvement in their ability to control the flow of fluid.
"Before when they laughed or coughed or sneezed or stood up or played golf, now the extra pressure holds things back to where they don't leak anymore," Nash said.
"I had so many problems. If I coughed or sneezed, it was like I was in Niagara Falls breaking loose," said Ed Roith, 88, who had the surgery nine years ago during the clinical trials.
Roith, a retired salesman who survived prostate cancer, said he's experienced a high level of relief, and other than a routine office visit for adjustment of the balloon, he's happy with the results.
"I'm normal now. I can cough. I can sneeze. It doesn't bother me," Roith smiled. "It's like a new life, really. You can do what you want."
Nash said the surgery is not yet covered by most major health insurance programs. He said the procedure has been in use in Europe for some time now, and he`s proud to be on the cutting edge of helping older men restore a piece of their youth.
"Watching that change of life for them. it was dramatic and exciting. That's why we really enjoy this," Nash said.