This is an archived article and the information in the article may be outdated. Please look at the time stamp on the story to see when it was last updated.
KANSAS CITY, Mo. – Doctors say 1 in 8 women in the U.S. will get breast cancer. Treatment can take a toll on your body, but if you're a patient here in the metro, you've got a new option when it comes to locating concerning cells.
Surgeons at St. Luke's Breast Center said SAVI SCOUT technology makes the experience easier for patients and doctors.
Joan O'Keefe was 27 and weeks away from delivering her first baby when she was diagnosed.
"I was actually only the second person to ever have radiation therapy while pregnant at the Mayo Clinic," O'Keefe said.
She had been walking with her husband.
"He puts his arm around me, and he feels a lump under my clavicle here," she said.
The show of affection led to a discovery that would require months of radiation.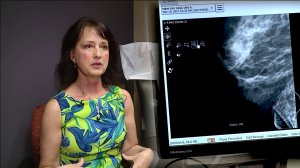 "That has put me at a risk of breast cancer for the rest of my life because my tumor was here under my breast bone," she said. "My radiation was head and neck and chest for the first round and abdomen for the second round."
Her high-risk journey led her to the St. Luke's Plaza Breast Center where surgeons are using a new way to find tumors.
Surgeon John Shook said physicians have been doing the wire localization procedure for 50 years.
"There are different wires. They're hard to interpret, the depth and the length. Some of these tumors are so small that you can't see them," he said.
Now, they're the using SCOUT technology that's radar-based and the size of a grain of rice. Shook said it's much less invasive and more precise.
"We can detect down to the millimeter of where it is," he said.
"It just makes it that much more reassuring that my surgeon can get in there, get exactly what he needs, not take too much breast tissue and get out of there," O'Keefe said.
O'Keefe knows she'll have to go back to the breast center again. She said she's glad though that new technology makes the journey a little less stressful.
"Even though it's a very easy procedure to go through, it was just really wonderful to have this, you know, very caring atmosphere," she said. "And it's quick. It's very quick."