This is an archived article and the information in the article may be outdated. Please look at the time stamp on the story to see when it was last updated.
KANSAS CITY, Mo. — When it comes to cancer research, pediatric cancers are getting a very small portion of the funding to find treatments. Cancer remains the biggest disease-related killer in children.
However, the American Cancer Society and at least one local organization are trying to change that.
Deliece Hofen`s son, Braden, was diagnosed with neuroblastoma when he was just 3 years old. After more than a year of treatment, Braden`s cancer relapsed, and his odds for survival were just 10 percent.
Braden survived, but his mom was shocked to see so few treatment options for her young son.
"I went through my own cancer battle and I had a plethora of treatments available to me, at the same time my son was facing no known cure for his cancer," she said.
She realized she had to come up with a way to fund more research for childhood cancer — so she started Braden`s Hope.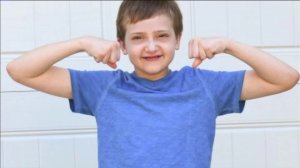 "Childhood cancer is very overlooked and underfunded. They only receive about four percent of the National Institute of Health`s budget for research, and that`s just not enough money for our kids," Deliece said.
Braden`s Hope pledged to give $3 million over three years to researchers in Kansas City, and this year`s recipient of a $1 million grant is Dr. John Perry.
"For a young, a new investigator, it`s an unusual thing for sure. It`s a tremendous honor," Dr. Perry said.
Dr. Perry is a survivor of pediatric cancer – it`s what influenced his decision to research pediatric cancers.
"Originally, I was working on how normal stem cells make more of themselves. I realized in doing that – that that process can be hijacked by different genetic alterations, and you can form what`s known as a leukemia stem cell, and that is really the root of the cancer. So if you can target that, then you can potentially eliminate the cancer," he explained.
Dr. Perry hopes this treatment will not only help cancer patients, but it`ll reduce the after-effects that other treatments may cause.
"If you can target those particular cells that drive relapse, you can reduce that instance and also potentially reduce the instance of escalating the therapy, which can have so many bad side effects," he said.
According to the Star Act — more than 60 percent of childhood cancer survivors go on to experience a chronic health condition due to the treatment they receive.
"It`s about 15 percent of some cancers that get secondary cancers, the problem is, once that occurs, they`re very difficult to treat successfully," Deliece said.
But in Kansas City — every single day — researchers are working to improve those statistics through the partnership between the University of Kansas Cancer Center, Children`s Mercy and Stowers Institute.
"We have a really unique position here in Kansas city, the truly wonderful part of that is we know that we have the place to do the research, we know that we have the researchers to do the research, now we need to fund the research studies so that the research can happen," Deliece said.
So more kids can end up like Braden- a cancer survivor.
The childhood cancer Star Act was just passed over the summer. It is supposed to increase funding for research and improve childhood cancer monitoring, among other things.
The American Cancer Society is also stepping up its efforts in childhood cancer research and is currently funding $25 million worth of grants.