This is an archived article and the information in the article may be outdated. Please look at the time stamp on the story to see when it was last updated.
KANSAS CITY, Mo. — Kidney disease can be devastating for patients and their families. Often times it means families need to make regular hospital visits for dialysis treatments for years, even a lifetime.
But a unique program at Children's Mercy allows for pediatric patients to live a more normal life.
Ayesha Dunlap was born with kidney failure, and although she had a transplant, that kidney failed years ago. So every day the 20-year-old needs dialysis.
"I don't like coming to the hospital a lot," she said.
Luckily, she no longer has to.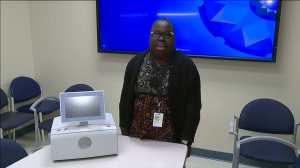 Dunlap and her family live in Lawrence, so it would typically take them an hour each way to get to and from Children's Mercy for dialysis.
"That'd be a lot, and it's like — I like to do stuff and call my siblings and go to sports games," she said.
So Dunlap has an at-home peritoneal cycler machine that automatically loads summaries of her nightly dialysis treatments into a "cloud," allowing the staff at Children's Mercy to check her levels and treatment — without Dunlap ever leaving her home.
"It made a huge difference in their quality of life," pediatric nephrologist Bradley Warady said. "In Ayesha's case, she went to school. Now she's working."
"Kids that have to come to the dialysis unit three days a week for 4 hours at a time — they miss much of school," he said. "They don't have the normal peer interactions, so again from a quality of life standpoint, doing home dialysis is really preferable."
And remote monitoring helps medial staff keep a close eye on patients without requiring a daily visit to the hospital.
"It allows us to see what's going on with dialysis every night with the information uploaded to the cloud, so it allows our nurses to detect problems that might be occurring very, very early before they cause a significant clinical problem for those kids," Warady said.
In the world of pediatrics, remote monitoring for peritoneal dialysis is rare — only Children's Mercy and a few other clinics offer it nationwide, according to Warady.
Children's Mercy nurse Susie Roy said remote monitoring allows her and her patients to take the guesswork out of at-home dialysis.
"If there were any issues or problems, we'll get a red flag," Roy said.
And that means healthier patients overall.
For Dunlap, who loves to catch every KU game, remote monitoring for her dialysis treatment not only sustains her life but also gives her a life she can enjoy.
"My future plan is to go to college and become a nurse," she said.
And one day she hopes to be completely done with dialysis by getting a kidney transplant.
"I'm hoping for a nice new kidney transplant so I don't have to do dialysis anymore and so I can live a normal life and travel the world," she said.