This is an archived article and the information in the article may be outdated. Please look at the time stamp on the story to see when it was last updated.
KANSAS CITY, Mo. — Happy turkey day! If you're looking for a recipe to get you through Thanksgiving starting with the turkey and following through to dessert, then the morning crew has you covered. Watch FOX4 news starting at 4 a.m., Thursday, Nov. 22 to follow along.
Don't have a TV? Click here to live stream the newscast.
Turkey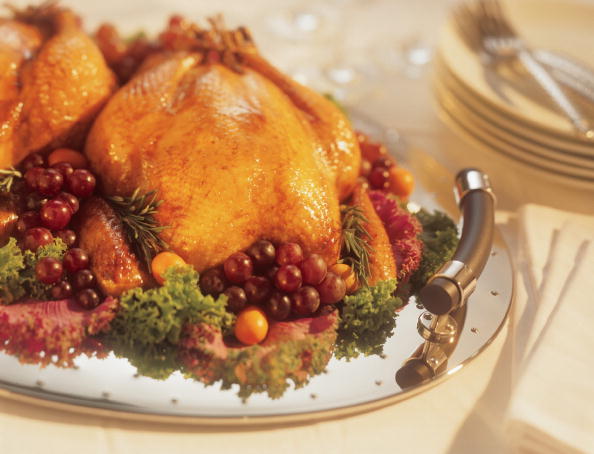 Serves 8 (1-1.5lb/person)
Ingredients:
13 lb turkey
1 T dry sage
1 T dry rosemary
1 T dry basil
½ T paprika
3 T (approximately 3 cloves) garlic, minced
1-2 T olive oil
1 tsp salt
1 tsp pepper
1 onion (chopped in quarters & stuffed in turkey cavity)
1 apple (chopped in quarters & stuffed in turkey cavity)
2 celery stalks (cut into sticks & stuffed in turkey cavity)
Directions:
Preheat oven to 325 degrees. Mix all the spices, salt and pepper together in a bowl. Rub under and over the skin of the turkey with olive oil. Put spice mix under the skin and over the skin. Stuff the turkey with the onion, apple and celery. Put any extra spices inside of the bird. Put any extra onions, apples or celery underneath the bird to enhance the drippings. Bake at 325 degrees for three hours or until internal temperature of 180 degrees in the thigh or 165 degrees in the breast. Place tin foil loosely over the top of the bird about 2/3 of the way through cooking. Make sure to cover the breast and drumsticks. This will help the skin not get too browned and prevent any drying out of the breast. Once the internal temperature is reached take the bird out and let it rest for at least 15 minutes. Reserve any drippings from the turkey for the gravy.
Alford's Knuckle hair cheese log
Ingredients:
I brick of cream cheese
1/4 grated onion
1 pkg of grated Extra sharp cheddar cheese
1 tsp Garlich powder
1 small pkg chopped pecans
Chili powder
Directions:
With bare clean hands, smash up ALL ingredients except chili powder.
Roll into logs
Roll into chili powder until completely covered
Wrap in foil and refrigerate for an entire day.
Baked mac and cheese
Ingredients:
• 8 oz dry macaroni noodles 230g
• 4 Tablespoons butter 55g
• 1/4 cup all-purpose flour (31g)
• 3 cups milk I use whole milk (710ml)
• ½ teaspoon salt
• ½ teaspoon ground pepper
• ½ teaspoon garlic powder
• ½ teaspoon onion powder
• ½ teaspoon ground mustard
• 2 cups Sharp shredded cheddar cheese* (226g)
• 1 ½ cup shredded mozzarella cheese (170g)
Panko Topping:
• 2 Tablespoons butter
• 1 Tablespoon olive oil
• 1 cup seasoned panko crumbs (60g)
Directions:
1. Preheat oven to 350F (175C)
2. Begin cooking your pasta according to package instructions. Do not over-cook. Once finished, drain and set aside. You do not want to let your pasta set for too long once it's finished, so I recommend beginning the following steps at the same time that you start boiling water for your pasta.
3. Meanwhile, melt butter in a 10″ cast iron pan** over medium heat. Once it has melted, add flour and whisk until smooth and no lumps remain..
4. Add milk and spices (salt, pepper, garlic powder, onion powder, and ground mustard), stir well and bring to a boil. You may notice that the milk and butter will separate — continue to heat, stirring frequently, until the milk is heated and they combine
5. Once mixture comes to a boil, reduce heat, bring to a simmer, and stir frequently until mixture is thickened.
6. Reduce heat to low and add cheddar and mozzarella cheese. Stir until cheeses are melted and mixture is smooth.
7. Add cooked, drained pasta noodles and stir until well coated by the sauce.
8. Set aside while you prepare your Panko topping.
Panko Topping:
1. Combine butter and olive oil in a small saucepan over medium heat. Heat, stirring occasionally, until melted.
2. Add panko and stir well until the butter and oil has been mostly absorbed. Continue to stir until panko is lightly toasted and turns a light-medium brown color
3. Sprinkle toasted panko evenly over mac and cheese.
4. Transfer to oven and bake uncovered on 350F (175C) for 15 minutes.
5. Garnish with parsley, if desired, and serve.
Notes:
*You may substitute another type of shredded cheese for all or part of this — Colby, Monterey Jack, and Gruyere, would all work well. I personally use half sharp cheddar and half white cheddar for mine!
**If you don't have a 10″ cast iron pot, then prepare your macaroni and cheese according to these instructions and then transfer to a lightly buttered 9×9 square pan or 1.5qt baking dish before topping with panko and baking.
Grandma's cherry pie filling salad
Ingredients:
1 Can sweetened condensed milk
1 Tablespoon lemon juice
1 Container Cool Whip
1 Small can crushed pineapple
1 Can cherry pie filling
Directions:
Stir milk and cool whip together.
Add lemon juice, pineapple, and pie filling.
Mix all together until pink.
More recipes:
Sign up to receive a weekly email from FOX4 with the recipes we featured on our FOX4 newscasts.
Click here to add your name to the list.