This is an archived article and the information in the article may be outdated. Please look at the time stamp on the story to see when it was last updated.
KANSAS CITY, Mo. — Alright, we are really doing this.  I don't want it to be annoying or dumb, so please let me know if you feel it is becoming either!  I want to become the best version of me, hopefully you are along for the ride!
I started training with the fabulous Liz Kampschroeder on Monday at Body Blox Gym just down the hill from the station.  Liz had to laugh when I walked in with my McDonald's diet coke, but I was actually proud of myself for pouring out the soda on the way into the gym and filling it with water.   We did a tour of the gym and  then got to work so Liz could figure out my strength and flexibility.  We used a combination of free weights, machines, and body weight exercises.  Throughout the session we chatted (sometimes I wasn't sure Liz was actually counting those push ups and crunches because we were talking so much) but she assures me she was.  We talked about some of my bad habits I want to change and roadblocks to the long term lifestyle changes I am seeking.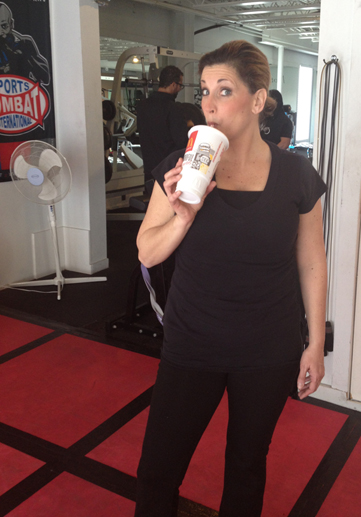 Liz is big on the "rule of halves."  That means, take whatever habit you want to change and cut it in half.  I was pretty grossed out when I really added up how many sodas I drink in a day.  Starting at 3:30 a.m. I think I consume between 7-8 Diet Cokes.  So this week I am cutting that in half, 3-4 DCs and adding water in to replace the others.  I am also keeping a "food journal" and writing down every bite of food that goes into my mouth.  Liz doesn't want me to change my eating habits this week so I may scare her even more next Monday!   I am also writing how I feel when I eat (bored, hungry, anxious, happy, etc.).  Liz says taking on too much this week will set me up for failure so we are easing into this.  Next week we will come up with a game plan to enforce positive habits and slowly change the unhealthy ones.
As far as workouts go I am sore from yesterday but really excited about the changes I know are ahead.  To get my cardio in I am going to walk and run outside since it's so pretty.  My goal is to get out three times this week, likely with my two year old in a jogger stroller.  If you have a question for Liz please post it here and I can pass it along!
I am grateful for her patience, honesty and pure enthusiasm as we begin this crazy journey together.