This is an archived article and the information in the article may be outdated. Please look at the time stamp on the story to see when it was last updated.
KANSAS CITY, Mo. -- FOX4's Karli Ritter is counting down the days until grilling season. To make sure she is ready, she invited chef Matt Chatfield into Studio B to help her perfect three new recipes you can make at home.
Chili Rellenos-Poblano
Ingredients:
8 poblano chiles
vegetable oil (for brushing)
3/4 pound potatoes, peeled
1 1/4 cups cheddar jack cheese blend
salt and freshly ground black pepper
8 eggs separated, whites from yolks
1 cup flour
Directions:
Prepare the chiles: Preheat the oven to 400°F. Brush chiles with oil and roast in oven until skins are lightly charred and blistered, 5 to 10 minutes. (Leave oven on.) Place poblanos in a plastic bag and seal. Let them steam 5 minutes; using small knife, carefully peel off skin. Slit each chile open from top to bottom (leaving ends intact) and remove seeds.
Meanwhile, in a pot of boiling salted water, cook potatoes until just tender. Drain and place in a bowl. Mash with a fork. Mix in cheese and season to taste with salt and black pepper. Stuff chiles with this mixture and arrange in a single layer in a baking dish.
Make the batter for frying. Whip the egg whites to soft peaks in a blender, then add 4 of the yolks and fold in. Preheat the oil in a skillet to 350 F. Dredge the stuffed chilis in the flour to coat. Then dip in the egg batter. Fry on one side, spooning the hot oil over the top as well. Gently turn over and brown other side. remove from hot oil to a paper towel lined plate. Serve with sauce of choice if desired.
Chili Verde Steak Fajitas
Ingredients:
1 1/2 pounds skirt steak, cut into 4 pieces
Salt and pepper
Juice 2 limes, divided
¼ cup vegetable oil, divided
1 teaspoon cumin
1 teaspoon coriander
1 teaspoon granulated garlic
1 teaspoon Mexican oregano
1 tablespoon Worcestershire
1 small red onion, peeled and thinly sliced
3 bell peppers
1 large yellow onion, julienne strips
6 cloves garlic, crushed or sliced
2 jalapeño or Serrano peppers
A handful cilantro tops, coarsely chopped
16 thick corn or flour tortillas
Salsa Verde, store-bought
Directions:
Preheat a large cast-iron skillet over medium-high heat.
Season the steak with salt and pepper, and whisk up marinade: juice of 1 lime, 3 tablespoons oil, cumin, coriander, granulated garlic, oregano, Worcestershire. Turn meat in marinade and let stand while heating a large griddle or grill pan over medium-high heat. Cook steak 2-3 minutes on each side for medium-rare to medium doneness.
Toss onions with juice of remaining lime, salt and pepper.
To skillet, add remaining tablespoon oil, a turn of the pan, sliced peppers and white onion. Toss 3-4 minutes to char at edges and soften a bit. Season with salt, pepper, garlic and hot peppers if desired; toss a minute or 2 more.
Slice steak across the muscle fiber "grain", and add to cast-iron skillet with the veggies. This will keep the fajita mixture warm for awhile while you toast the tortillas.
Char tortillas over an open flame or in a hot, ungreased skillet to blister on both sides.  Keep warm in tortilla warmer or wrapped in foil.
Garnish the fajita skillet with Cilantro and fresh limes serve from the pan with charred tortillas, homemade or store-bought salsa verde, and hot sauce alongside.
Caramel Flan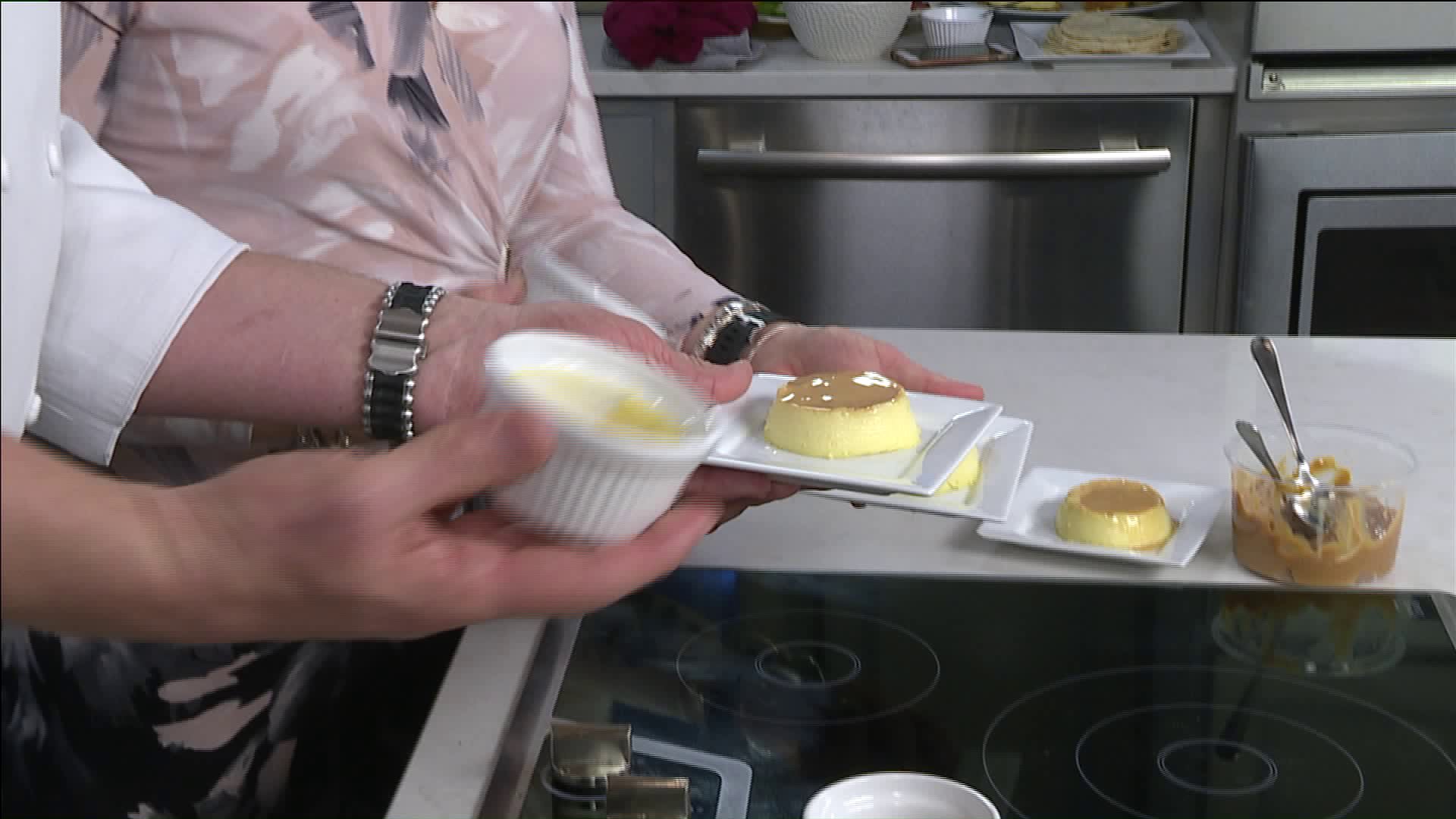 Ingredients:
1/4 cup cajeta
3 cups milk
Two 14-ounce cans sweetened condensed milk
Four 2 x 1 1/2-inch strips of orange peel (colored part only)
1 1/2-inch cinnamon stick, preferably Mexican canela
4 whole cloves
6 eggs
8 egg yolks
Directions:
Set 2 6-muffin silicon (flexible) muffin molds in into a large pan that's at least 2-inches deep (a very large roasting pan usually works). Spoon 1 tablespoon of cajeta into the bottom of each mold, tilting the molds so that the cajeta completely covers the bottom. Turn on the oven to 325 degrees.
In a large (4-quart) saucepan, combine the milk, sweetened condensed milk, orange peel, cinnamon, and cloves. Heat to a simmer, stirring occasionally, then remove from the heat and cover. Whisk together the eggs and egg yolks in a large bowl. When the mixture has steeped about 10 minutes, strain it into the eggs. Whisk to combine. Divide the mixture among the molds.
Open the oven door, pull out the rack, set the roasting pan on the rack. Pour hot water around the molds, filling the pan to a depth of about 1 inch. Carefully slide the rack back into the oven and bake until the flans are just barely set in the middle, 50 to 60 minutes. Let cool in the hot water bath, then remove and refrigerate until thoroughly chilled, about 2 hours.
Run a small knife around the edge of each of the flans to release it from the sides of the mold. Lay a deep platter over one of the 2 pans of molds, grasp plate and molds firmly, then reverse the two. Shake the molds back and forth and up and down—squeezing the sides of the molds slightly if you need to—to insure that each flan has dropped. Remove the molds. Scrape any remaining caramel out of the molds and onto the flans. Repeat with the second set of molds.
Using a small metal spatula, transfer each flan to a serving plate. Divide the caramel among them and you're ready to serve. If you wish, the flans may be unmolded onto the platters, covered with plastic and refrigerated for several hours before serving.
More recipes:
Sign up to receive a weekly email from FOX 4 with the recipes we featured on our FOX 4 newscasts.
Click here to add your name to the list.