This is an archived article and the information in the article may be outdated. Please look at the time stamp on the story to see when it was last updated.
KANSAS CITY, Mo. -- Two local pit-master BBQ teams competed on a competition show for Destination America. It airs this coming weekend, so on Thursday they stopped by to give viewers a special preview.
Recipes:
"Pork Spare Ribs" from Squeal Like A Pig BBQ in Kansas City, Kan.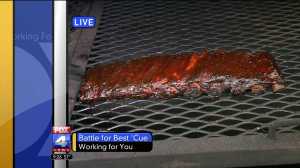 Ingredients:
1 - 3 lb rack of St Louis Cut spare ribs
1 - 8oz bottle of BBQ Rub
1 - 8oz Squeez butter
1 - 12oz bottle of BBQ sauce
1 - 1lb bag of brown sugar
1 - 8oz bottle of honey
Directions:
Trim the whole spare ribs down to a St Louis Cut.
Apply generous amount of Almost Famous Rub.
Smoke for 2 hours at 275 degrees, adding the squeeze butter to the top of the ribs after the 1st hour.
Then wrap in foil bone side up with with brown sugar and honey added to the foil.
Return the foiled ribs back to the smoker at 275 degrees for another 2 hours.
Remove from smoker and foil.
Add moderate amount of SLAPsauce to top of ribs and enjoy.
___________________________________
"Chicken Leg Quarters" from Fergolicious BBQ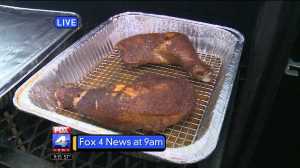 Ingredients:
10 lbs of chicken leg quarters
Olive oil spray
Favorite dry rub
Favorite glaze or sauce
Same brine
Same injection
Directions:
Place chicken leg quarters in brine for about 4 hours.
Remove from brine, rinse off and inject.
 Spray with olive oil and apply dry rub.
Let the dry rub sweat out a bit and then place on the smoker either directly on the grill grates or to add moisture, place the chicken meat side down in a foil pan and place some butter or margarine in the pan to increase moisture.
Smoke for about an 1.5-2 hours at 250-275 degrees using cherry wood or until internal temp reaches 165-170 degrees.
_____________________________
BBQ Pit-Masters will premier on Saturday at 8 p.m. on Discovery.