This is an archived article and the information in the article may be outdated. Please look at the time stamp on the story to see when it was last updated.
LIBERTY, Mo. -- A number of residents in Liberty are cleaning up an expensive mess left after Monday night's storms; and oddly most of the substantial damage seems to be confined to one street, while others were spared.
FOX 4 photojournalist Don Proctor talked to residents on Spruce St., which is east of 291 Highway and north of 152 Highway,  who were confounded by the storm's pinpointed path, too. From what they can see, the most serious damage begins near Forest and Spruce streets and ends before Spruce and Locust. (See map below.)
The National Weather Service determined on Tuesday that the damage was not a result of a tornado, but instead straight-line winds which reached speeds of about 70 mph. However, the damage at Raines Rd. and 210 Hwy, southeast of downtown Liberty was caused by a tornado with a strength-rating of EF1. The NWS said the tornado was on the ground for 0.75 miles, with a max width of 200 yards.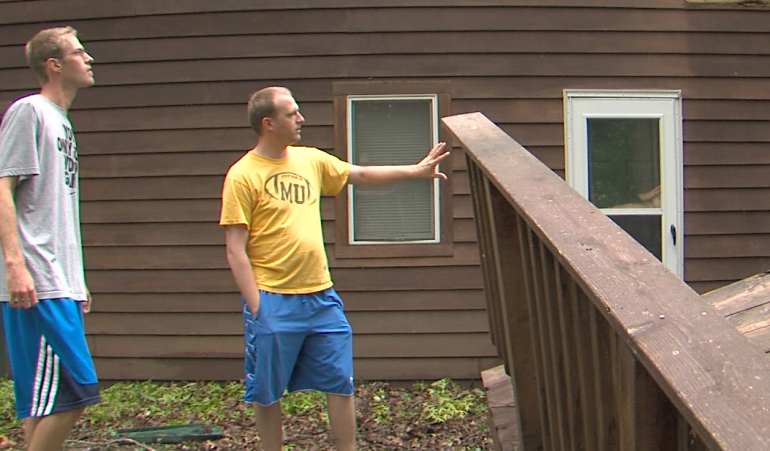 Eric Stanley and his family had a close call. He said he and his pregnant wife had just put their daughters, ages three and one-year old, to bed when the storm started pounding their house.
"It started hitting the windows and stuff and then literally my wife described it as she thought the house was literally ripping in two just from the noise that we heard. So we ran in and grabbed our kids and my first reaction was just to get out of the house. I probably should have gone down to the basement but we just got in our van and left and we went over to some friends' house," Stanley said.
They lost a tree in the front and a tree in the backyard, around which their backyard deck was built.
"It was a feature point of our house. It was one of the big things we really loved about the house when we bought it. I don't know how old that tree is. It has to be at least 50, 75 years old and it completely uprooted," he said.
When Stanley returned to his house with a friend, he said they at first thought the damage was limited to the tree in the front.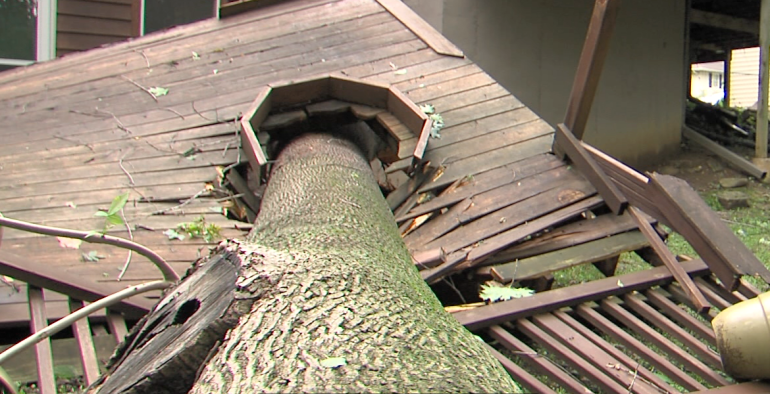 "But later when we came back and investigating a little bit more we found the tree and the whole deck had been ripped off from our house," Stanley said. "It's one of those phenomenons of nature that you can't always explain. We're just thankful that God protected us, that none of these trees fell in a way that harmed anybody."
[googlemaps https://maps.google.com/maps?q=N+Forest+Ave+%26+Spruce+St&ie=UTF8&hq=&hnear=N+Forest+Ave+%26+Spruce+St,+Liberty,+Missouri+64068&t=m&z=14&ll=39.253317,-94.445926&output=embed&w=425&h=350]
FOX 4's Katie Ferrell checked out some of the damage Tuesday morning and filed this report: