This is an archived article and the information in the article may be outdated. Please look at the time stamp on the story to see when it was last updated.
KANSAS CITY, Mo. -- Congratulations to Laurie, Courtney, Scotty and Steve for winning the FOX 4 Soup Bowl Sweepstakes. Their soup recipes were randomly selected from more than 100 entries. Then, one of our favorite chefs, Chef Matt Chatfield from William Jewell college whipped them up for us. Watch the video in the player above for the big reveal and taste test!
For more recipes, click here for the slideshow of entries.
Laura Goldman
Soup: Spicy Biscuit and Sausage Gravy Soup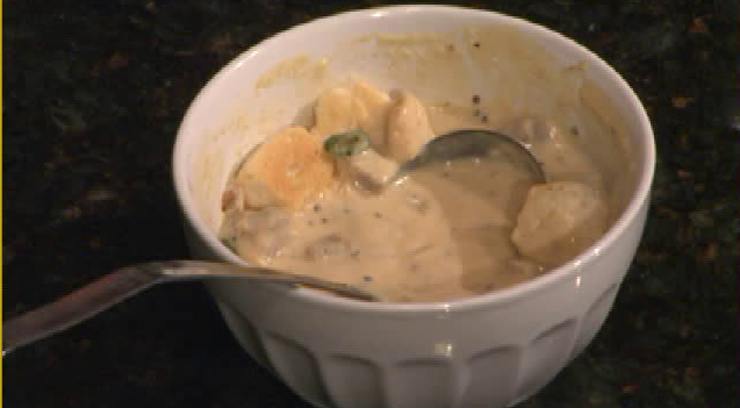 8Tbs flour
4 tbs butter
6 cups milk
1 tbs black pepper
1 tsp garlic powder
1 tsp paprika
2 tsp salt
1/2 chopped white onion
1 lb roll of hot breakfast sausage
1 can of buttermilk biscuits cut into chunks
Hot sauce for garnish
Chopped green onion for garnish
In a large pot, cook the hot sausage fully through at medium high heat. Remove sausage from pot and place on a paper towel lined plate. Add the white onion to the sausage grease and cook until transparent. Add the pepper, garlic, paprika, and salt. Add the butter to the pot, let melt, and then the 8 tbs of flour. Mix until a thick roux has been made. Add all of the milk. Stir slowly until roux has dissolved.
Simmer for 15-20 minutes.
Add the chunks of biscuit dough to the soup. Allow dough pieces to cook through (15-20 minutes). Add the sausage back into the soup. Add additional salt if preferred.
Serve. Sprinkle on chopped green onion and a few dashes of hot sauce if desired.
--------------------
Courtney Borchers
Soup: Taco Chicken Chili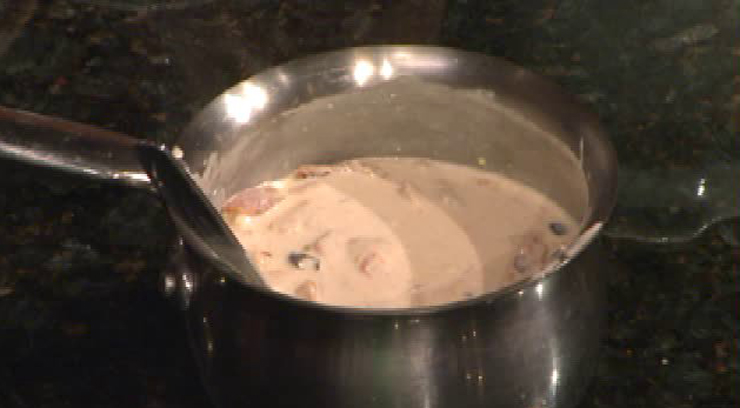 1 pkg boneless skinless chicken breast; thawed
1 beer (any brand is fine)
1/2 teaspoon paprika
1/2 teaspoon onion powder
2 tsp minced garlic
1 teaspoon cumin
1/2 teaspoon chili powder
Cook chicken in one beer and all seasonings above in the crockpot or bean pot for 3-4 hours; 275 degrees if using oven, or low if using crockpot. (Check to make sure chicken has cooked through, some crockpots need longer)
additional ingredients:
1 block cream cheese (not low fat)
1 carton (32 oz) chicken broth
2 cups half and half
1 can shoepeg or white corn (drained)
1 can black beans drained and rinsed
1 can petite diced tomatoes (large or small)
1/2 teaspoon chili powder
1 teaspoon salt
1/2 teaspoon garlic salt
2 teaspoons minced garlic
1/4 teaspoon cayenne pepper
1 teaspoon cumin
(if you like more spice add one can rotel)
Shred chicken. Poor the juices that the chicken cooked in into the stock pot. Add shredded chicken, 1 block of cream cheese, 1 carton chicken broth, 2 cups half and half, 1 can corn, 1 can black beans, 1 small or large can petite diced tomatoes, 1/2 teaspoon chili powder; 1 tsp salt; 1/2 tsp garlic salt, 2 tsp minced garlic; 1/4 teaspoon cayenne pepper; 1 tsp ground cumin. Cook on low, do not allow to boil.
Serve with tortilla chips if desired.
-----------------------------
Scotty: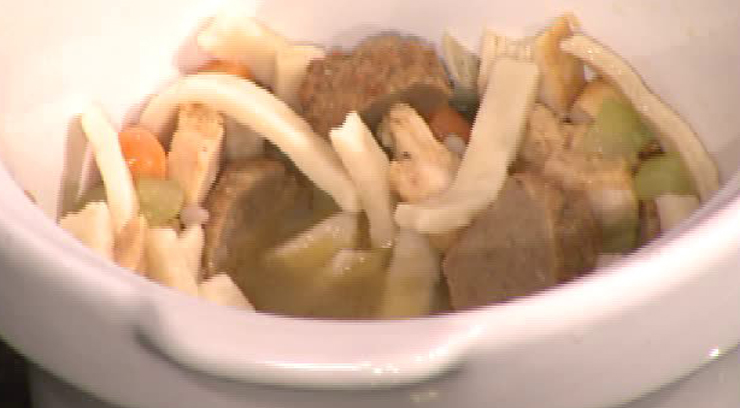 2 lbs skinned Chicken Thighs
2 lbs lean ground beef
2 lbs fresh carrots
2 lg onions
1 cup plain bread crumbs
1 cup fresh sliced okra
1 cup celery
1 lb kluski noodles
L.B. Jamison's Chicken Flavor or preferred cubes
2 gal water
Mix ground beef, 1 or 2 eggs, bread crumbs, 1/2 cup finely chopped onions. Make into 1 inch meatballs. Bake at 350 deg for 20-30 minutes. Drain and store in fridge.
Peel and slice carrots, Slice celery. Steam until done and store in fridge.
In separate pot cook Kluski Noodle untill tender. Drain rinse and store in fridge.
Bring 2 gal water to full boil.
Add 1/3 cup or to personal taste, L.B. Jamison's stir until mixed in. Test Taste
Then Add 2 lbs chicken, and sliced okra.
Simmer until chicken is done. Skim off extra fat. Remove chicken and separate bones.
Return chicken, meatballs, vegetables and noodles to soup pot. return to fine simmer then turn off and cover.
Ready to serve
-----------------------------
Steve Hampton
Soup: Grandma Carol's Cheese Soup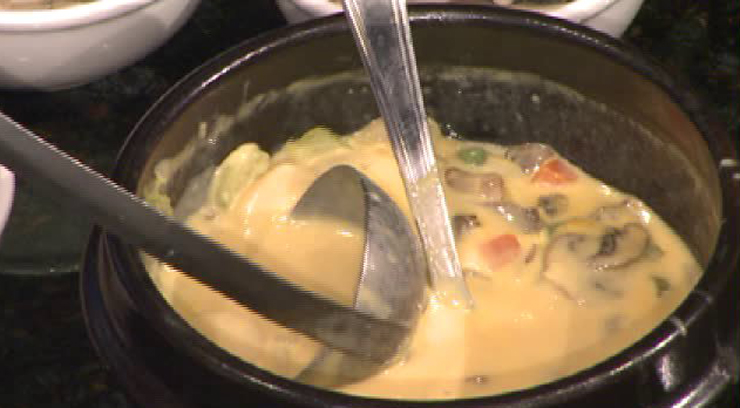 6 C. Water
2 1/2 C. Diced Potatoes
1 C. Chopped Celery
1 1/2 C. Chopped Onion
Boil for 20 minutes
Add 1-16 oz. bag frozen California blend vegetables
Boil 10 minutes more
Reduce to low
Add 2 cans cream of chicken soup, 1-4 oz can mushroom pieces (drained), 1-8 oz sliced water chestnuts (drained,cut in halves) 1-lb. Velvetta cubed.
salt and white pepper to taste.
Stir until cheese is melted