This is an archived article and the information in the article may be outdated. Please look at the time stamp on the story to see when it was last updated.
LEXINGTON, Mo. — The mother of a 10-week-old girl who died after suffering a fractured skull and brain damage spoke to FOX 4 on Thursday.  Stephanie Hicklin says she's devastated at losing her little girl, Brenlee, and sickened by whom authorities say did it.
On Thursday, the girl's father, Alex Gilbert, 24, was charged with one count of second-degree murder of Brenlee Gilbert.
According to the Lafayette County Sheriff's Office, deputies responded to a home on Linn Road in southwestern Lafayette County on Friday, May 17. An infant was reported to be unresponsive and was having trouble breathing.
The child was transported to St. Mary's Hospital in Blue Springs were medical staff discovered the infant had sustained a number of injuries. She was then transferred to Children's Mercy Hospital in Kansas City, Mo., where she died on May 20.
Stephanie Hicklin, the infant's mother, says she never thought she would have to bury one of her own children but she hope's little Brenlee's death will help others. She didn't want to go on camera because she has two black eyes, which according to court documents, were allegedly inflicted by Alex Gilbert.
Hicklin says what tiny organs could be harvested have been donated. She says a 51-year-old male on the east coast received Brenlee's kidneys. She says the infants heart valves were also harvested and her liver and pancreas are going to research.
"I felt that maybe she could save someone else's life and that their family wouldn't have to hurt like ours does," Hicklin said.
Hicklin says her daughter had just started smiling and was always a happy girl. She says she misses her very much.
According to the probable cause, on Thursday, May 16, the baby's mother left her alone with Gilbert for about an hour. When the mother returned at about 11 p.m., the baby was asleep. She did not wake up in the middle of the night as she normally did for formula, and the child slept until about 11 a.m. the next day.
The child was not able to drink much formula that day and was again left alone with her father, according to the probable cause report. At about 6:00, the baby began gasping for breath and an ambulance was called.
Police say Gilbert was angry that the mother had left the child with him. According to the statement, Alex Gilbert punched the mother in the ribs. When she arrived at the hospital for her child, the mother was observed with black eyes and a bruise on her forehead. She admitted Gilbert had thrown a phone at her forehead a few days prior.
Gilbert and the girl's mother were not allowed to see the baby while she was in the hospital because of the suspicious injuries.
The report says Gilbert became angry and said, "I need to hire a lawyer."
Other witnesses testified to police that they had seen Gilbert tossing the baby in the air, even though they told him it was inappropriate to toss a 10-week old in the air.
Gilbert also reportedly referred to the baby as "moody" and told her that he could just "throw the baby up against the wall."
According to the Jackson County Medical Examiner who performed an autopsy, the infant suffered numerous broken bones, including a fractured skull, contusions and brain damage.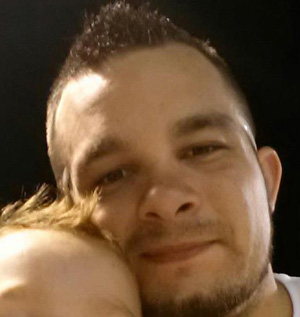 Gilbert's father told FOX 4 his son would never harm a child and believes investigators are just looking for someone to blame.
Gilbert is being held on $500,000 bond.