This is an archived article and the information in the article may be outdated. Please look at the time stamp on the story to see when it was last updated.
KANSAS CITY, Mo. — A metro mom says a BB gun attack has been no different for her daughter than surviving a real gunshot. A 20-year-old man suspected in the attack that hurt four people made his first appearance in a Clay County courtroom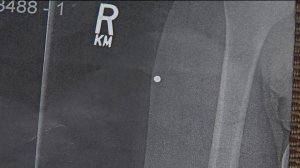 on Thursday.
A 13-year-old girl has had her life turned upside down ever since she was shot in that BB attack. An X-ray revealed that the BB lodged in Rachelle McAdams' arm. The teen with special needs was playing outside her apartment complex on Mother's Day weekend when authorities say 20-year-old Gage Livingston allegedly fired a BB rifle, striking Rachelle, two other children, and an adult.
"My daughter comes through the front door screaming and hollering, blood running down her arm. We weren't really sure what had happened at first. My son then looked at it and said I think she's been shot with something," Rachelle's mom, Heather, said.
Heather said her daughter has been having repeated nightmares since the attack, and was afraid to go outside by herself until she learned that a suspect had been arrested.
"To think that if something would have happened to her, that`s nothing anybody would want to go through. I`m just very lucky and very grateful that it was just a BB gun and not something that could have taken her from me," she said. "It`s just crazy. I don`t know what goes through people`s heads to think that they can sit around and take shots at people."
Heather said doctors did not remove the BB from Rachelle's arm for fear of causing more harm. She said it took weeks to work itself out on its own. In the meantime, her daughter has been undergoing counseling for post-traumatic stress.
"He needs to be in jail for a long time. To me it's no different than shooting, than if she was shot with a real gun. She was shot. Regardless of what type of weapon it was," Heather said.
Livingston has been charged with four counts of second-degree assault and four counts of armed criminal action. The accused shooter is due back in court October 15 and is being held on a $200,000 bond.