This is an archived article and the information in the article may be outdated. Please look at the time stamp on the story to see when it was last updated.
KANSAS CITY, Mo. – Missouri was one of the last states to approve Naloxone, commonly known as NARCAN for over the counter sales, in 2017.
It's a medication that can save your life in case of an overdose. But the $150 price has kept it out of the homes of some people who should probably have it.
The Missouri State Targeted Response Grant is now offering NARCAN free of charge at four Missouri locations, including Kansas City's Healing House.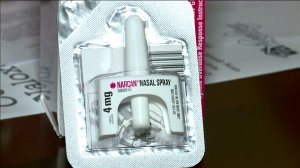 It's a nasal spray that can stop an overdose from drugs like heroin or painkillers almost immediately by blocking the opioid receptors.
Lisa Benton's daughter Bailey died of an overdose in 2015. She now runs Bailey's Purpose, an overdose awareness program. She said getting the medication isn't a signal to teens drug use is OK.
"Children make terrible choices, but they don't deserve to lose their life, and it's something that could save their life. I don't see what parent wouldn't want to have it," Benton said.
Though you can pick up the medication any time, Healing House hopes you'll sign up for a training class to learn the signs of overdose and how to safely administer the life saving medication. You're still advised to call 911 while you wait to see if a second dose will be needed.
The next Naloxone training class is at 1 p.m. July 28 at the Healing House's Recovery Center in Kansas City. It is located at 4505 St. John Avenue.
"We just have to keep raising awareness and take away the stigma that people are bad or they are hopeless because to me, as long as a person with substance abuse disorder is still breathing, there`s still hope," Healing House founder Bobbi Jo Reed said.