This is an archived article and the information in the article may be outdated. Please look at the time stamp on the story to see when it was last updated.
INDEPENDENCE, Mo. -- An 18-year-old Oak Grove man has been charged in the fatal shooting of a woman in Independence.
David A. Harris was charged Wednesday for second degree murder, first degree assault and two counts of armed criminal action, according to Jackson County Prosecutor Jean Peters Baker.
Independence police responded to the Cedar Brooke Apartments, located in the 1100 block of Quail Creek Drive Tuesday morning on reports of shots fired.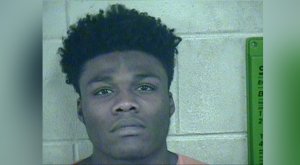 According to court records, while at the scene, officers heard yelling and through a window they saw the homicide victim, identified as 20-year-old Mary Schmitz, on the floor in the dining room. Police also found a 21-year-old man in a bedroom with a gunshot wound. He was taken to an area hospital with life threatening injuries.
Police also said a German Shepherd had been killed.
Several people were reported to be in the apartment when the incident occurred.
Police later found Harris, who matched the descriptions given to them by the assault victim. He told police that he had been in a fight with the assault victim at the home and had shot Schmitz during the fight. Harris told police he then left the scene and threw the gun into the woods.
Online court records don't list a court date for Harris at this time.