This is an archived article and the information in the article may be outdated. Please look at the time stamp on the story to see when it was last updated.
CLINTON, Mo. -- An annual Memorial Day service to honor service members who have died became a remembrance for two Clinton heroes who sacrificed their lives to keep the community safe.
The families of Clinton police officers Gary Michael and Ryan Morton received commendations for their sacrifice from the American Legion Post 14. Both men survived military duty, only to be gunned down in their community.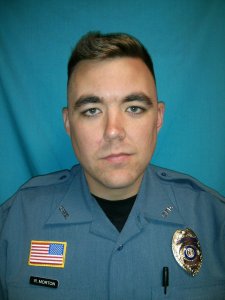 "A very tough day," said Tara Morton, Ryan Morton's mother. "But we are very, very, very honored, and we want to say thanks."
Tara Morton can hardly believe she is here. The death of her son is still difficult to cope with for both mom and dad.
"He was doing what he loved doing," Ryan's dad Darrel Morton said. "He was a happy child and loved life. That's what it was. He loved serving people."
Spc. Ryan Morton served in the Army and then as a police officer in Clinton. He was killed in the line of duty while responding to a domestic disturbance March 6, 2018.
Seven months earlier, there was another tragedy in Clinton. Pfc. Gary Michael, also a Clinton police officer, was killed in the line of duty during a traffic stop.
"It's hard. It is very hard to do this, but we want to keep it in the forefront," said Melissa Michael, Gary Michael's mom. "Especially remember what our police officers go through each and every day as they step out of that car for a tail light or go into a house just to make sure everyone is OK. It is a job that sometimes goes without thanks."
Morton's mother made a heartbreaking plea on this Memorial Day that we remember her son.
"On this great Memorial Day, I would ask that people go back and look at the values of this country," Tara Morton said. "Serve others. This is what this was about. Be kind to each other, love with all your heart and forgive always. That would be what Ryan would want to tell people. Not just in Clinton but in these United States of ours. If you do that, we wouldn't be doing what we have to do today."
The memorial commendations presented to the families read: "Whose devotion to duty, courage and patriotism has been so boldly experienced by selfless service and supreme sacrifice in defending the freedoms of oppressed people and securing of all Americans."