This is an archived article and the information in the article may be outdated. Please look at the time stamp on the story to see when it was last updated.
OVERLAND PARK, Kan. -- Eastbound I-435 is finally open after crews spent Tuesday morning removing burned butter from the interstate after Monday's fiery crash that seriously injured one.
The wreck resembled last week`s deadly crash on I-70 in Bonner Springs. In both cases there were cars, semi trucks, and construction involved. The construction on I-435 proved to be a challenge for fire crews.
Traffic screeched to a halt after thick black smoke blanketed the sky. Onlookers could see it for miles, and police crews had to close the interstate eastbound approaching Antioch to Quivira.
"Something like this is very devastating, especially when it comes to traffic flow," Overland Park Officer John Lacy said.
Crews tell FOX 4 that five vehicles including a tractor-trailer carrying frozen food were involved in this crash, leaving one person badly burned.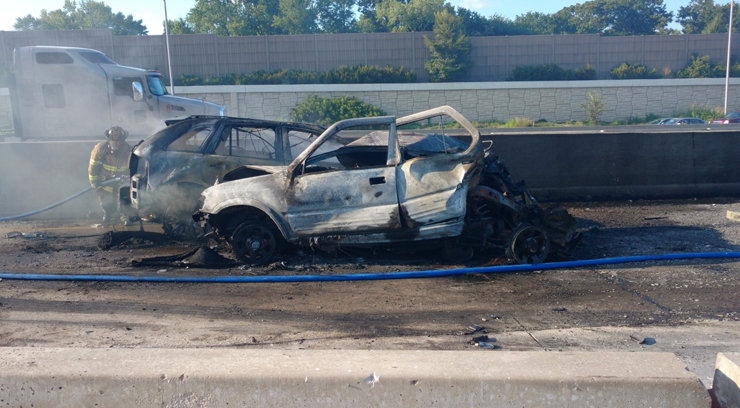 "That patient does have significant burns and that`s a critical patient. That patient was transported immediately. I believe one other person was transported from the scene in good condition," Overland Park Fire Department spokesman Jason Rhodes said.
Construction added an enhanced level of difficulty for crews at the scene.
"It`s a pretty treacherous part of the interstate right now because of all the construction. So we`ve got a lot of jersey barriers, we`ve got a lot lanes kind of segregated if you will so narrow spaces," Rhodes said.
It also meant Overland Park crews had to get help from nearby Olathe and Lenexa crews who tanked in water.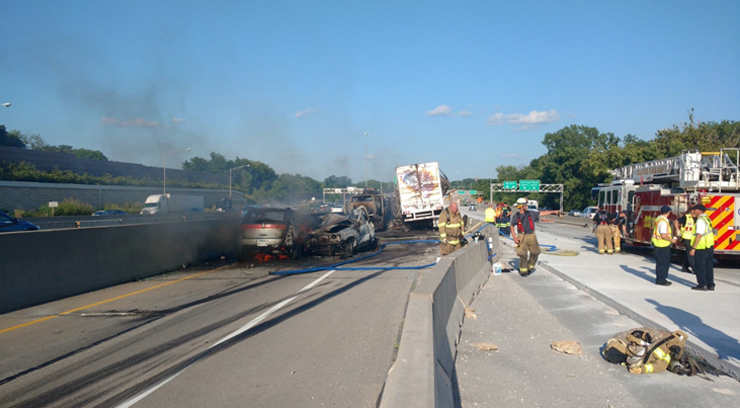 "No way to get to a fire hydrant in that area, so you`re really limited to tank water or whatever the apparatus have on-board, and with a significant fire they`re going through that rather quickly," Rhodes said.
The cause of the crash is still under investigation.
"We`re going to take a look at this whole accident scene and we`re going to be very transparent and make sure all of our T`s are crossed and all of our I`s are dotted," Officer Lacy said.
The hope is to have everything back open well before Tuesday morning's rush. If you need a detour in the meantime, the city of Overland Park says eastbound traffic can exit at Quivira, then use either 103rd or College to drive parallel to the interstate.
OPKS- Crews trying to clean BURNT BUTTER off the highway from yesterday's fiery crash in 435. EB 435 OPEN. Two lanes CLOSED. Pic: #RobertOhl pic.twitter.com/L0Ub6tLZN5

— Nick Vasos (@NickVasos) July 18, 2017