This is an archived article and the information in the article may be outdated. Please look at the time stamp on the story to see when it was last updated.
KANSAS CITY, Mo. — Two men received their high school diplomas on Sunday at the Kansas City Rescue Mission. The graduation was decades past due for Maurice Jones and Chris Hogan, but now they have the achievement of a lifetime.
"Whatever it is you want to achieve and desire is already prepared for you to go get it," said Maurice Jones. "So, therefore go get it full force."
Hogan said he had to get sober in order to complete his degree. He said he started his addiction seven years ago after his mother died. But now, he has been sober for three years.
"If anybody hears this that is having doubt about where their life is headed, just follow their spirit it won't steer them wrong," he said.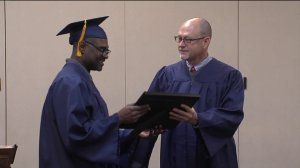 Jones said he didn't make it past the fifth grade, so starting the program at The Kansas City Rescue Mission was intimidating at first. He said it was the challenge he needed to stay away from drugs and alcohol.
"I don't have to have that part of my life," he said.
Jones said he is ready for his next challenge. He plans to work toward a degree in business management. Hogan said he starts occupational therapy classes at Penn Valley Community College on Monday.​