This is an archived article and the information in the article may be outdated. Please look at the time stamp on the story to see when it was last updated.
ST. LOUIS -- One man is dead after he changed lanes suddenly in front of a tractor-trailer on a suburban St. Louis highway, causing a fiery chain-reaction crash.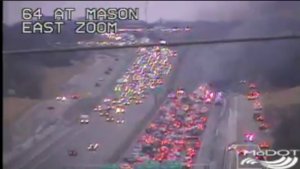 Billowing black smoke could be seen for miles after the crash at 8:20 a.m. Tuesday on Interstate 64. Three other people, including an infant, are hospitalized, but their injuries are not believed to be life-threatening.
Missouri State Highway Patrol spokesman Juston Wheetley says the car was changing lanes to exit onto Interstate 270 and was struck by the tractor-trailer. The car became wedged beneath the tractor-trailer and caught fire. Four other vehicles struck the wreckage.
The patrol initially said two people were killed and at least 15 vehicles were involved. Wheetley says those reports proved wrong once investigators sorted out the crash.