This is an archived article and the information in the article may be outdated. Please look at the time stamp on the story to see when it was last updated.
MARYVILLE, Mo. — A man has been charged after police say he drove into a Maryville bar, hitting and killing a Northwest Missouri State University student.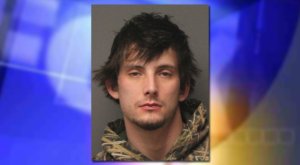 Alex Catterson, 21, now faces one count of first-degree involuntary manslaughter, according to court documents.
Morgan McCoy, of Liberty, Missouri, died early Sunday after Catterson's vehicle allegedly drove into The Palms Bar & Grill around 12:40 a.m. The 19-year-old was inside the bar and was injured in the crash. She was taken to a local hospital where she was pronounced dead.
A Maryville city ordinance allows anyone 19 years old or older into bars.
McCoy was a sophomore elementary education major and a member of Sigma Kappa sorority.
Retired police officer Erik Schreiber owns The Palms Bar in Maryville. He said he's very serious about safety in his establishment, and the hours following this tragic event have been devastating.
"It's been a really rough to deal with, knowing that inside those walls I did everything I could and a random bad decision by somebody affects the whole community like this," Schreiber said.
Schreiber set up a GoFundMe memorial fund to help McCoy's family with funeral expenses.
The GoFundMe page gave an account of the crash, saying, "Morgan was out having some fun with her friends when a random drunk driver crashed into the bar she was in. Morgan was literally walking out the door when the driver plowed into the building, causing extensive damage and her to pass away shortly after from her injuries. The driver had a blood alcohol level of .207."
Spring semester classes at NWMSU began Monday.
Catterson is set to appear Tuesday morning in Nodaway County Court for his initial arraignment.
Previous coverage: