This is an archived article and the information in the article may be outdated. Please look at the time stamp on the story to see when it was last updated.
INDEPENDENCE, Mo. — An Independence woman who was shot and killed in front of her two young sons Sunday night is believed to be a victim of road rage.
Police say 22-year-old Whitney Gray was driving a minivan around 7:39 p.m., near Winner Road and Sterling Avenue with two children, ages 3-years and 6-months, when she encountered a road rage incident. Police said a man in a white SUV fired a gun. Gray was shot once.
A 16-year-old female was also in the vehicle at the time of the shooting. Family and friends tell FOX 4 the 3-year-old and 6-month old were Gray's children.
Gray's vehicle came to a stop about two blocks away.  Authorities pronounced Gray dead at the scene. The children were not injured.
There were several bullet holes in her windshield.
FOX 4's Robert Townsend spoke to Gray's neighbor, Jeff Tucker, who was at a loss for words.
"Wow. That's terrible," the stunned neighbor said. "Man. That's bad."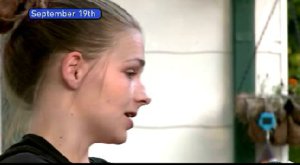 Just last month, Whitney Gray just happened to be one of the people FOX 4 interviewed on a story about the shooting death of a Van Horn High School student on her street. She described her concern for her children's safety after the shooting.
"Normally my kids are out here playing, so we were kind of freaked out," Gray told FOX 4 at the time.
Police are still searching for the suspect. They released surveillance footage that shows the suspect's white SUV:
The suspect and driver of the SUV is believed to be a white male in his early 20s with a thin build.
Meanwhile, folks are still shocked and outraged at the sudden tragedy.
"It's terrible. It's all I can say is it's a terrible thing. You know, you can't even drive down the street without fear of being shot," Tucker added.
Independence Police officer John Syme called the incident "unacceptable."
"It's completely unacceptable, something like this that escalated from what we believe was some sort of road rage incident."
The investigation is ongoing.
Family and friends set up a GoFundMe for Gray and her young sons. Click here to donate.
If you have any information, please call the TIPS Hotline at (816) 474-TIPS.