This is an archived article and the information in the article may be outdated. Please look at the time stamp on the story to see when it was last updated.
OLATHE, Kan. —  An Olathe mom is behind bars, accused of trying to kill her three children.
Police were called to the 1700 block of North Lennox Street at about 7:05 p.m. Monday and found the mother and children inside the home. They needed medical attention. The woman talked to officers, leading officers to believe she and the kids had ingested something that was dangerous.
They were taken to the hospital in serious condition.
Police arrested the 37-year-old mother and on Wednesday, Johnson County prosecutor Steve Howe announced he charged Therese Roever with capital murder. Her bond was set at one million dollars. On Wednesday, during her first court appearance, her attorney asked the judge to reduce her bond, but the judge denied the request.
Sources told FOX4's Shannon O'Brien that the Roever's ex-husband has custody of the children. Monday evening, he was at the home to pick up their children from their scheduled visit with their mother. Neighbors say he was pounding on the door.  Then, when police came they went inside and found the children in need of medical attention.
'Thankfully the children are recovering and should be returning home very soon," said the ex-husband's attorney.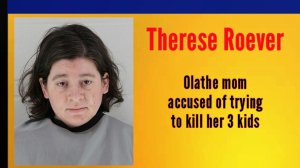 According to court records, there has been a bitter custody battle between the former couple, who divorced towards the end of 2016.  Records show she lost custody of the three children after she reportedly made false claims about her ex.
Three months ago, in November, the court changed the custody agreement and granted her unsupervised visitation.
Roever's next court appearance is scheduled for March 1st.
If you have any information, call 913-971-7500 (Olathe Police) or the TIPS Hotline at 816-474-8477. Look for updates to this story on FOX 4 newscasts and FOX4KC.com.