This is an archived article and the information in the article may be outdated. Please look at the time stamp on the story to see when it was last updated.
MERRIAM, Kan. — A Shawnee woman is now behind bars accused of driving under the influence and causing a deadly crash on Shawnee Mission Parkway earlier this week.
Vicky Walter faces one count of involuntary manslaughter, one count of DUI-aggravated battery and one count of driving with a suspended license.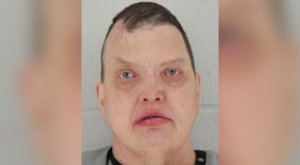 She appeared in Johnson  County court Thursday afternoon, where a judge set her bond at $500,000 and told Walter she is to partake in no drinking, no drugs, absolutely no driving and no contact with witnesses.
Walter burst into tears as she heard the orders and walked back to her jail cell.
Police say Walter caused a chain-reaction crash with two other vehicles Tuesday morning.
The driver of one of those cars was Jack Duncan. He's been hospitalized with severe injuries, which we're told includes crushed knees, damaged arms, broken clavicle, spinal fractures and a badly injured face.
His wife, Celena Duncan, was riding with him and died in the crash.
Metropolitan Community Church of Topeka posted a message of condolence on its Facebook page, which reads:
"It is with deep sadness we announce Rev. Celena Duncan's passing, an active member of MCC Topeka. Prior to her retirement, she was a pastor of Good Shepherd MCC in Chicago and MCC of Johnson County. Our prayers are with her husband Jack."
The church, which is known for its progressive stance, was among the first in the nation to perform gay marriages and openly ministers to the LGBTQ community.
MCC Topeka also shared a YouTube video of Celena Duncan from 2011, when she shared about how to handle hard changes.
"Grief accompanies every loss and there's a time and a season for everything under heaven.  No matter how it comes about, nothing in life, nothing is as consistent and certain as change," Duncan said in the video.
There are no immediate funeral plans for Celena Duncan.