This is an archived article and the information in the article may be outdated. Please look at the time stamp on the story to see when it was last updated.
KANSAS CITY, Mo. – Animal control officers were on the scene Wednesday morning after a 7-foot alligator was found at a home in Kansas City during an eviction.
Crews responded to the home around 9 a.m. Since they aren't equipped to deal with a 200-pound alligator, they called in an animal rescue group to help.
The owner of the alligator, Sean Casey, said when officials showed up Wednesday morning to evict him, he had just minutes to get out. So he had to leave everything behind, including his pet alligator, "Katfish."
Katfish is the largest alligator KC animal control officers have ever had to deal with.
"This thing was massive in size, and it took over four of us to handle this," said James Donovan with KC Animal Control.
Casey told FOX4 the creature was only 15 to 18 inches long when he first got him four years ago. He's now about 7 feet long and weighs 200 pounds. He added that Katfish acts like a dog.
"He had his own way of saying, 'Hi,' to people," Casey said. "They're not big ferocious animals like people think. They have personalities."
Casey said the animal's diet consisted of chicken nuggets, steak, deer and fish.
"I don't know what the procedure will be to get him back, but I'm going to fight to get him back," he told FOX4.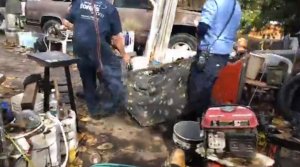 When asked what it is like to live with a gator, he said, "at times it can be smelly, but he's a big cuddly gator. He wags his tail when I come home."
Casey said the house belonged to his grandmother who is currently in a nursing home. The owner of the home, a trustee, is evicting him.
"I don't have anything good to say about the man so I probably shouldn't say anything at all, but he's doing my family wrong," Casey told FOX4.
Animal control officers also found three pythons and a rabbit in the home located at 55th and Phelps.
FOX4 will have more on this story tonight on FOX4 at 5 & 6.
Meet Catfish the alligator. #ExoticAnimal #Pets #Alligator #AnimalRescue pic.twitter.com/K78J3NH5zn

— Shannon O'Brien (@ShannonOBTV) November 7, 2018