This is an archived article and the information in the article may be outdated. Please look at the time stamp on the story to see when it was last updated.
KANSAS CITY, Ks. — An 8-year-old boy from KCK is headed to the big leagues, at least for a few days. Brandon Wilson can't wait to go to the MLB All-Star Game on July 17 in Washington D.C.
Brandon didn't just win the ticket — he earned it.
Baseball is Brandon's favorite sport to play, and he thinks about it day and night.
"He has the most commitment I've ever seen out of an 8-year-old," said his mom, Sara Wilson. "He's jumping out of bed in the morning. He's doing push ups, sit ups. He's hitting off the tee."
Brandon's hard work is paying off. He got the ticket by playing and winning rounds of a pitch, hit and run competition. He ranked third in his age division for the entire country, beating out around 600,000 other kids hoping to make it to the all star mound.
It's a number Brandon said he can't even fathom.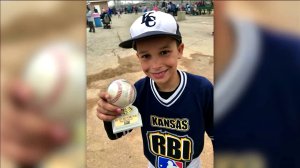 "It's something that's really fun to see, that he enjoys doing this so much, and he enjoys putting the work in, so it`s nice to see him being rewarded for the work that he does," his mom said.
Brandon said finding out he gets to go to the big game was the best day of his life.
"We were playing a scrimmage and I was at bat, and the announcer told the whole entire complex to stand up, and he announced it," Brandon said. "I was like, 'Oh my God, this is crazy!'"
He's looking forward to seeing Salvy.
"I hope I run into Salvador Perez, so I could ask him if I could carry his bag, so he doesn't hurt his leg again," Brandon said.
However, he's most excited to see his favorite player from his not-so-favorite team: the Cubs.
"Javier Baez at the home run derby," Brandon said.
While they compete, so will he. Hopefully he'll take home is first professional W as the national pitch, hit, run competition.
"I think it will be something that, regardless of whether he plays baseball for the next 20 to 30 years or the next two years, it will be something that he will never, ever forget," his mom said.
When asked if he thinks he'll play professional baseball someday, Brandon replied: "Yep! Guaranteed!"
Baseball isn't the only sport Brandon likes to play. He said he also plays basketball, football and is thinking of taking up soccer. Brandon said his favorite part about playing baseball is being a part of a team and helping others.