This is an archived article and the information in the article may be outdated. Please look at the time stamp on the story to see when it was last updated.
BLUE SPRINGS, Mo. — A Blue Springs boy is bringing his community together through lemonade.
The 8-year-old raised thousands of dollars from his tiny lemonade stand and brought in a big check to police headquarters Thursday.
With help from people across the metro — and even the nation — Brecken Simmons raised much more than he originally thought he would. It was a simple business plan with not much preparation needed. The stand set up shop on July 28 and ran from 10 a.m. to 2 p.m. Just four hours.
His total: $3,546.10.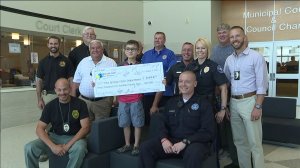 Simmons presented the giant check to Blue Springs Police Chief Bob Muenz and shook his hand.
Muenz told the audience they will be using the money to fund "Cop Car Karaoke." It's a machine that is built into a cop car, and they will take the vehicle to community events to help build relationships with the public.
"It just makes me really happy to just kind of show some respect," Simmons said.
"It's given me a new zeal and invigorated me to go out and try to see what else we can do," Sgt. Jeff Sergeant said.
Brecken said he's not sure what his next project will be, but he loves helping others.