This is an archived article and the information in the article may be outdated. Please look at the time stamp on the story to see when it was last updated.
GLADSTONE, Mo. — A Gladstone 8-year-old is thankful his corner lemonade stand is once again making sales.
A customer threatened to have it shut down this weekend for not having a permit, but the community came out to show they have the little boy's back.
"He wanted this lemonade stand for his birthday, and that's all he wanted," said Jacob's mom, Gina Martin.
Eight-year-old Jacob Blank's sweet sips also come with sweet purpose.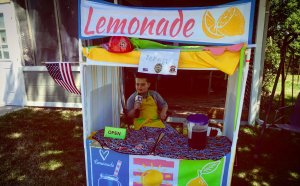 "To get air conditioning back in our car because we have no air conditioner in there," Jacob said.
His mom insisted he should use the money for something else, so he's donating it to a global missionary program through his church.
"So kids can learn about Jesus," Jacob said.
But his tasty success was spoiled by a customer late Friday afternoon.
"He goes, 'Do you have a permit?' I said, 'Excuse me?' He said, 'Do you have a permit? Do you have a health permit, a food handler's permit?'" Martin said.
His mom sent Jacob inside to sort things out. The customer wasn't a city employee but insisted the little boy needed a permit to run his sidewalk store.
"They said, 'No. Just as customers, we want to know if we get sick off of this who we should go to,'" Martin said.
"Oh whoa! What's crazy with them! Why you want to shut me down? It's just lemonade. Come on!" Jacob said.
Angry and confused, Martin couldn't call city hall since it was after hours, so she took to Facebook to find out if a permit was actually needed. No one had a clear cut answer.
But the next day, Jacob got the surprise of a lifetime when first responders lined his lemonade stand.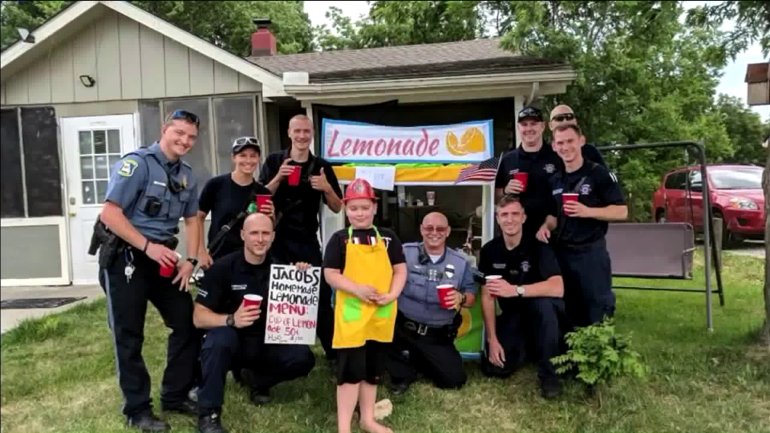 "I thought it was an emergency somewhere!" Jacob said.
There was no trouble, but instead, an overwhelming display of community support.
"I did not expect to see the whole street covered with the hook and ladder, Clay County Sheriff, Gladstone Police and then Metro Security, ambulance/EMTs, didn't expect to see none of that," Martin said.
They even left him with their "seals of approval."  For Jacob's mom, it means the world.
"People should encourage kids to do more like this and support them," she said.
Jacob has a speech disorder, but she's now seeing that the little lemonade stand and all the success it's having has boosted his confidence and self-esteem.
"Thank you for coming by and God bless," Jacob said.
Jacob's planning to keep his lemonade stand open most days this summer, except on Sundays, at 61st and N. Wyandotte streets in Gladstone.