This is an archived article and the information in the article may be outdated. Please look at the time stamp on the story to see when it was last updated.
EXCELSIOR SPRINGS, Mo. – Saying goodbye isn't easy for Jennifer Mattivi but seeing the turnout for her grandfather's funeral, World War II veteran Frank Mattivi, helped her understand the impact his life had on others.
"It means a lot to me," she said. "My grandfather was an American hero, and when we were growing up, we didn't know the extent of all this."
Frank Mattivi, 99, was a WWII veteran and a P.O.W. held by the Germans for 16 months. He was one of the country's first Army Rangers, known during WWII as the Darby Rangers, one of the world's most elite military special forces outfits.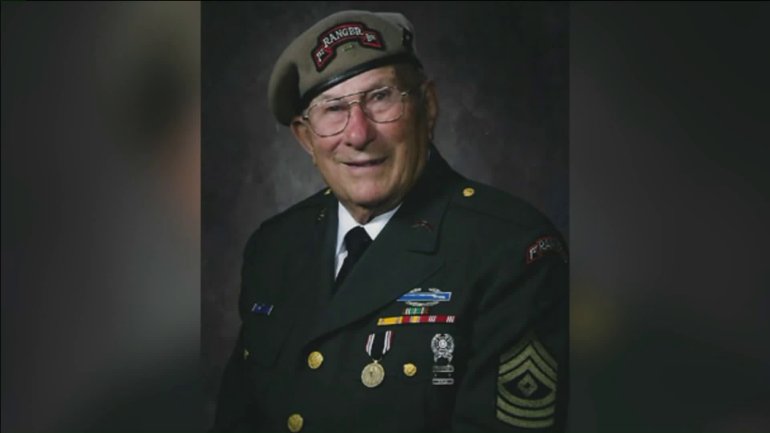 More than a dozen current Army Rangers joined dozens of Frank's friends and family to show their respect.
"Within the last 10 to 15 years is when everything really started coming out," Jennifer Mattivi said. "Pictures would come out of the back room, so when we started asking a few questions, and then he`d open up a little bit. Not a whole lot but a little bit more at a time."
Jessica Andrea Mattivi, Frank's great-great-granddaughter, said the impact he made on her life has motivated her to strive for more.
"It was absolutely beautiful, and I appreciate them so much for coming and doing this for my grandpa. It really shows how big of a man he was," Jessica said. "He did so much. I'll never be able to accomplish that, but it definitely makes me want to be a better person and do great things so maybe one day my Mattivi name will be up there."
Although Frank is no longer here, his lessons and memory will live on through his very large extended family. As too will his name.
"He taught us a lot. He taught us hard work, dig deeper, so we've lived by that," Jennifer Mattivi said. "Our last name is not just 'Mattivi,' it is who we are. It is who we bring our kids up to be. We're honored to carry that name."