This is an archived article and the information in the article may be outdated. Please look at the time stamp on the story to see when it was last updated.
KANSAS CITY, Mo. -- Hours after Eric Hosmer and his teammates whipped the metro into a frenzy with a comeback postseason win in Houston, tragedy struck Kansas City when two firefighters died after helping rescue two people from a burning apartment that collapsed on Monday night.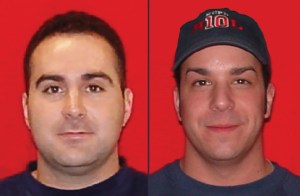 The fallen KCFD firefighters were identified as John Mesh, 39, and Larry Leggio, 43.
Hosmer grew up the son of a firefighter in Miami, and said there were anxious times when he would talk to his dad on the phone and hear the fire bell in the background, knowing he had to go out to a call. The Royals' first baseman expressed support and sympathy for the fallen firefighters' families on Tuesday.
"We just want to extend our prayers to the family and let everybody know that obviously there's nothing we can do to make this go away or make this disappear, but as a team, as a city we're all going to unite and try and get through these times with each other," Hosmer told reporters at a news conference.
A reporter asked Hosmer to discuss heroism as it related to life and to sports.
"You look at guys throwing a game-winning touchdown or hitting a game-winning home run and we all want to classify them as 'heroes.' To some extent it's fun to watch sports and how they interact like that, but when you're talking about real-life situations, there's houses burning down and people willing to sacrifice their lives and put their lives behind somebody else to go and save them truly defines what true character is," Hosmer said.
"Personally, anytime you put your life at risk to try and save somebody else, that alone explains what kind of person you have to be to be a firefighter," he continued.
Hosmer said if baseball didn't work out for him, he too would have been a firefighter, and says the Kansas City Fire Department has the full support of the Royals.
"I know they're going through tough times right now and we want them to know we have their backs 100 percent," he said.