This is an archived article and the information in the article may be outdated. Please look at the time stamp on the story to see when it was last updated.
KANSAS CITY, Mo. -- Brandon Howell, 34, appeared before a Jackson County judge Thursday morning, charged with the murders of three people Tuesday in South Kansas City.
Prosecutors say Howell brutally killed Lorene Hurst, 88, her son, Darrel Hurst, 63, and Susan Choucroun, 69, in an armed robbery in the Woodbridge neighborhood near Wornall and Blue Ridge Blvd.
During his arraignment before Judge Mary Weir, Howell was read the charges against him, which in addition to three counts of first-degree murder, also include 4 counts of armed criminal action, two counts of first degree assault for the injuries suffered by Anne and George Taylor. He faces one count of first-degree burglary, one count of stealing a motor vehicle and one count of unlawful possession of a firearm. A judge agreed to the prosecutor's request to deny bond to Howell.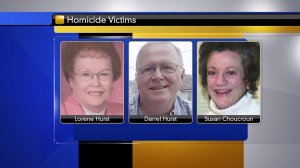 Police and neighbors told FOX 4 that the three victims killed in the South Kansas City Woodbridge neighborhood were apparently coming to the aid of neighbors Anne and George Taylor after they noticed something wrong. Neighbors say Choucroun and the Hursts reportedly noticed a man attempting to steal the Taylors' antique Jaguar from their home at One Woodbridge Lane. They say the gunman hot-wired the Jaguar but was having trouble driving it away. Then, the gunman jumped in the Taylors' SUV.  Witnesses say when the gunman realized there were witnesses, he shot them at point-blank range with a shotgun, killing them instantly.
Howell has been in a courtroom many times, with an extensive criminal record. In 2009, at the age of 25, he was acquitted of the murders of two teenagers, Nicholas Travis, 19, and Tabitha Brewer, 16,  who disappeared in 1998.
The couple was last seen with Howell at Brewer's home in April of 1998. Brewer's body has never been found. Travis' body was found in the backyard of a Kansas City, Mo., duplex in the summer of 1998.
"I have spoken with the Brewer family this morning and expressed to them that we care deeply about their daughter as well as Nicholas Travis, who I spoke with his parents as well. We care deeply about those two individuals and that we're going to fight for justice," said Jean Peters-Baker, Jackson County Prosecutor, when she announced the charges against Brandon Howell on Wednesday.
On Tuesday, an SUV belonging to Anne and George Taylor, the couple severely beaten in the South Kansas City Woodbridge neighborhood, was later found in the Northland, just blocks from where the Motel 6 assaults took place and a few miles from where Howell was arrested.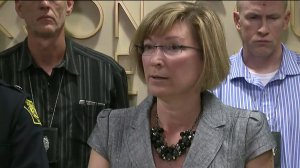 At the news conference Wednesday afternoon,  Jean Peters-Baker said she and her team would be working to bring Howell to justice for the families that were suffering.
"They went to bed last night with a nightmare and they woke up to their very worst nightmare and it's true. It's true that three families are struck with an unimaginable grief at the hands of a single individual," Peters-Baker said.
Howell is scheduled to be back in court on Thursday, Sept. 25 at 2 p.m.