This is an archived article and the information in the article may be outdated. Please look at the time stamp on the story to see when it was last updated.
KANSAS CITY, Mo. – Social justice activists demonstrated Tuesday afternoon in downtown KC, calling for criminal justice reform and better immigration policy.
The Unitarian Universalist Association organized the demonstration as hundreds of its minsters are in town for the church's annual General Assembly.
They gathered on the south end of the Barney Allis Plaza to share their message, singing songs in between speakers before making their way to the Community Health Council of Wyandotte County in downtown KCK.
They chose to hold the rally on Tuesday because it was Juneteenth, a holiday that marks the end of slavery more than 150 years ago, but organizers said black people continue to be imprisoned unjustly.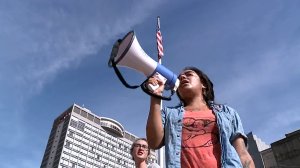 They believe the criminal justice system is tearing families apart and dehumanizing people across the country, especially people of color. The group of believers want to end pre-trial detention and cash bailouts, which they say is a play-for-pay system and is ruining families.
"If they can't get out, they lose their job. If they lose their job, they can't pay that rent, and they fall into homelessness," said Justice Gatson, an organizer of the event. "It's a downward spiral that people go through when they can't get out of jail."
"The criminalization we heard about today is just horrifying," said Kathryn Haughbaker, who traveled from Ohio to attend the church's convention. "I drove here, so I was pushing the speed limit. But I can do that with impunity because I'm white, and that's unfortunate, and I just want to do everything I can to have a fair equal and just society."
Another issue that is important to this group is immigration. They denounced the Trump Administration's "zero tolerance" immigration policy that has separated migrant children from their parents at the U.S.-Mexico border. The group called the policy "immoral."