This is an archived article and the information in the article may be outdated. Please look at the time stamp on the story to see when it was last updated.
LEE'S SUMMIT, Mo — KCMO Police Chief Darryl Forte retired in March 2017 and moved on to the next chapter in his life when he started law school.
But a year later, he was back in uniform when Jackson County Administrator Frank White appointed him as interim sheriff.
Then Tuesday, Forte beat Republican candidate David Bernal, and now the job is his. And it will be a big one.
"I say it's dysfunctional, and some people fail to realize the level of dysfunctional because that's what they grew up in," Forte said of the department he inherited.
It was an organization in turmoil.
Last April, then Sheriff Mike Sharp resigned amidst a sex scandal, which was discovered after his girlfriend sued the county for discrimination.
Court papers state Christine Lynde received multiple promotions and pay raises while working under Sharp, eventually becoming the highest paid civilian at the sheriff`s department.
When Forte came in, he was shocked at what he found.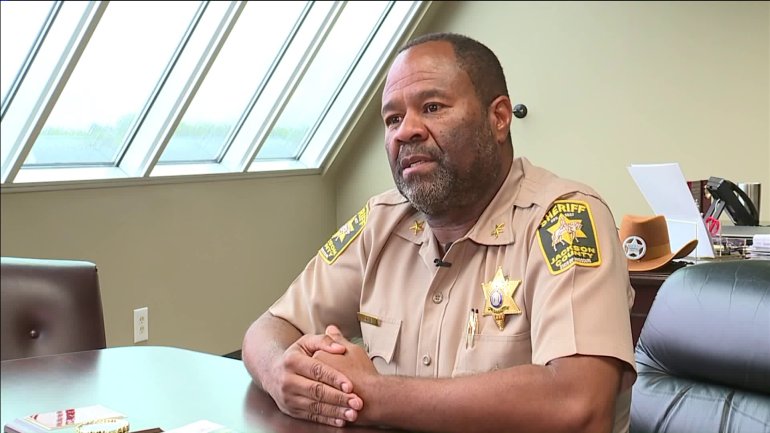 "I find out something every week," he said. "I can't share everything at this point, but I find out something every week where it appears to be unethical or some form of scandal."
Not only was the married former sheriff paying his girlfriend a large salary, Forte said there were people on the payroll who did little to no work for the department.
"They day I was sworn in, May 10, there was three public information officers listed, and most people didn't even know about one of them," Forte said. "And the one PIO they didn't know about wasn't required to submit a time card or any documents like that. He was paid regularly, and he didn't report to a captain."
Another employee was paid 20 hours a week yet had no physical spot within the sheriff`s department.
"He was a personal assistant to the sheriff, and no one knew that. No one had any information about that, and again that person didn't submit a time card either," Forte said.
That employee was paid by the county at the direction of the Jackson County Sheriff's Department.
In another instance, Forte says a commander who retired from the Sheriff`s Department in December was paid until March because of comp. time Forte said is not in line with Jackson County Policy. Something he says had been going on for years.
"The sheriff`s department set up their own system, and this person had over 500 hours of comp time." Forte said.
Recently, a retired deputy contacted the sheriff`s department about buying his service gun, which he took with him when he left. That concerned the new sheriff because there's no record that gun was assigned to him.
"So many scandalous things have been going on, and this same person didn't turn the firearm in when he left the organization," Forte said.
That inquiry prompted Forte to look into the deputy`s employment status. During his investigation, Forte found out that the deputy had been given reserve status.
"I knew nothing about it, nothing about it, and this person still had a sheriff`s department radio and sheriff`s department firearm, and a badge that I knew nothing about," he said. "So we have some concerns about record keeping. We have some concerns about the honesty of some people within this organization because how can I be the sheriff and ask for a list of reserve personal and this person's name is never on the list?"
Forte said it's not just taxpayer dollars wasted. When others who work in the organization see that level of dysfunction, it has a negative effect on them.
"Some people knew these dishonest practices were going on, and a guy explained to me, when you throw rocks, boulders come down. So you stay in your lane. But my problem is if you are a sworn law enforcement official and you see criminal activity, you are obligated to say something," Forte said.
The former culture was supported by fear-based management and retaliation. One female sergeant transferred nine times in one year for speaking up about issues within the department.
"No more," Forte said. "We are not going to operate under those principals. We are going to operate ethically. We are going to perform like we should perform. We are going to act like the camera is on us all the time. We are not going to keep things undercover."
Other serious concerns Forte is working to fix impact public safety.
The Jackson County Sheriff's Department sex offender policy had not been updated since 1997.
When Forte took over as interim sheriff, there were 456 unaccounted for sex offenders because no one had been looking for them. It's a problem so serious, Missouri Auditor Nicole Galloway publicly addressed the issue in October.
"There is a new sheriff who has acknowledged this issue, and I am glad he is making this a priority," Galloway said at a news conference. "I would like to see that across the state."
Forte also found that although 100 cruisers were taken home by deputies, there was no take-home vehicle policy, and the field training officer policy hadn't been updated since 1997.
And the department's domestic violence policy hasn't been updated since 1994.
"I have a problem with that," Forte said. "We do not have a lethality assessment where you do a survey on the victims out there to find out if they need additional services past us. We missed all that."
Forte summed up the way the Jackson County Sheriff's Department has been run as a lack of leadership. He said there are some great people who wear that badge, but they need some guidance.
"I am energized. I am encouraged every day I come in here because we have some great people, and I am ready to lead these people," the sheriff said.
Forte's goal is to make the Jackson County Sheriff's Department the premier law enforcement agency in the state of Missouri.