This is an archived article and the information in the article may be outdated. Please look at the time stamp on the story to see when it was last updated.
KANSAS CITY, Mo. — More than 300 inner city kids now have brighter smiles thanks to the kindness of local dentists. On Tuesday, Arrowhead Stadium hosted a free dental clinic, with more than 100 dentists offering their skills to do checkups and fill cavities.
Ten years ago, Dr. Bill Busch started the clinic when he saw a news report on a 12-year-old boy who died from an abscessed tooth. His parents couldn't afford to take him to the dentist and he died when the infection went to his brain.
"I just happened to be home that one night watching the news and I saw that and when they said 'how could this happen in one of the world's most wealthiest countries?', it got me really motivated to want to do something and I thought what better way to get kids excited about their teeth than with sports which I think is the fabric of every community," said Dr. Busch.
Dr. Busch teamed up with Chiefs punter Dustin Colquitt and over the past ten years, they've served more than 3,500 kids and performed more than two million dollars worth of dental work.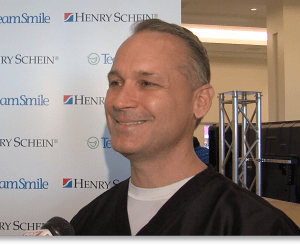 "It's just so heartwarming. A gift that I've got, that I'm pretty good at, that I can share with young children and make an impact on their whole lives. It's very rewarding," said Dr. Busch, co-founder of Team Smile.
The Royals and Sporting KC are now offering similar dental clinics with Team Smile, as are other pro-teams across the nation.
"We have over 45 professional sports teams and two colleges, one Tennessee and one Fresno State that do this program all-year round. It started here in Kansas City, the heartland. It's not the heartland for no reason. Got big hearts. The idea went from here to the Royals, right across the parking lot, from the Royals went to the Chicago Bears, from Chicago bears it moved on to the Milwaukee Brewers, so we have golf, baseball, hockey, basketball and even fishing. Whatever kind of sports attracts kids," Dr. Busch said.
For more information on Team Smile, click here.