This is an archived article and the information in the article may be outdated. Please look at the time stamp on the story to see when it was last updated.
HIGHLAND PARK, Ill. — A teen at a Chicago-area high school was pulled out of class Thursday for showing up dressed as Jesus.
Click here for the video story from WGN-TV.
Marshon Sanders insists that he did not want to offend anyone. He says he's extremely religious, and recently baptized, which was his inspiration for dressing up as someone he idolizes.
"First period I got called out immediately, 15 minutes into the class," Marshon said.
After a meeting between Highland Park High School administrators and Marshon's mother, he was told he could wear the costume after all.
The school district released a statement saying, "We initially were concerned that the costume could be offensive to religious sensibilities. Upon further review, we realized the student did not intend to be offensive. Therefore, the school communicated to the student that he could wear the costume."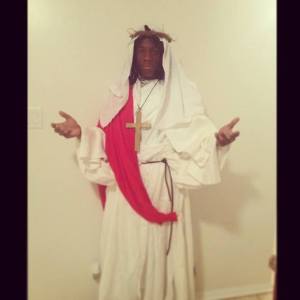 And while he was allowed to change back into the costume, Marshon decided maybe Jesus wasn't the best idea after all. He's just glad that he and staff understand each other.
According to Marshon's facebook page, a friend of his created a t-shirt to pay tribute to Marshon's experience.
The t-shirt apparently uses one of Marshon's trademark mantra: "Never Give Up."