This is an archived article and the information in the article may be outdated. Please look at the time stamp on the story to see when it was last updated.
KANSAS CITY, Mo. — Kansas City police believe that at some point the people responsible for the murders of two boys early Saturday morning at 58th and College were inside the home.
"I do not get it. I swear. We have to protect the future. He's the future," said Jayson Ugwuh, Jayden Ugwuh's dad.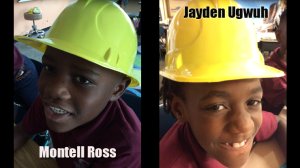 Ugwuh was only 9-years-old and his cousin Montell Ross, 8-years-old. They were killed early Saturday morning when a gunman sprayed bullets into the family home where Jayden and Montell were sleeping. Altogether, there were six children sleeping inside the home at the time.
Three days after their murders, FOX 4's Shannon O'Brien spoke to little Jayden's dad. He said Jayden awoke at about 1:30 a.m., to a barrage of bullets and ran out of his bedroom. When he noticed his cousin, Montell wasn't behind him, he turned around, ran back to get him and that's when both boys were shot.
"Didn't even cry, just got hit and ran and laid up under his big brother, you know. Like he knew exactly where to go for comfort, you know what I'm saying," said Ugwuh.
His brother, Jayson Jr., 12, was asleep in another room when Jayden was shot. Jayson Junior did not want to talk on camera but did tell FOX 4 that Jayden snuggled up to him and when he looked down at his little brother, Jayden's eyes were open, but it was clear he was no longer there.
"I got to deal with that and still raise them but what can I say to him, cause he actually held him, he held his cold body, you know what I am saying? How do I teach my son to cope with that when I can barely cope with it," said their dad.
Ugwuh says his children and their cousins live with their mothers in the house at 58th and College where the tragedy happened. He said their home was the one place he didn't worry about harm coming to them.
"He was in his safe spot, his home. This came to his home. So where else are you safe at if you are not safe where you sleep and wake up and eat. What can you do?"
Jayson said he often took his son to his work as a barber, and would pay him to help sweep up. He said he encouraged Jayden to save his money for something special.
"He pulled out $175 that he saved," Jayson recalled. "I cried then… because he's listening to me."
Jayden's dad says his son loved to rap. He believed in super heroes, had big dreams and wanted to fly. He was also an excellent artist, his dad explained proudly.
"He can draw. He can draw you right now and it would look just like you, at 9 years old," his dad said.
Throughout the interview, Jayson referred to his son as if he was still here.
"He's not even gone to me. It's still not real, it's fresh. I can't talk about him as if he's gone. I don't think I'll ever be able to do that," he said.
Police are asking for the public's help through the TIPS Hotline: 816-474-8477.