This is an archived article and the information in the article may be outdated. Please look at the time stamp on the story to see when it was last updated.
BLUE SPRINGS, Mo. — At 2:30 p.m., police said an AMBER Alert for 12-year-old Apple Briscoe was canceled; she was found safe. Police arrested suspect William Dela-Cruz in Wentzville, Mo. Police say that a second suspect, Jason Dela-Cruz, has turned himself in to police in Columbus, Ohio.
FOX 4's Megan Brilley received this message from Briscoe's aunt:
"My niece Apple has been found safe thank you Jesus and everyone for sharing and for everyone's prayers it means the world to all of us my family, friends, and I! We all truly want to thank you all from the bottom of our hearts for finding our sweet Apple and she is safe! She was found at a diner in St.Louis. They have one guy in custody and the other one ran!"
The Blue Springs Police Department issued an Endangered Person Advisory and then quickly updated it to an AMBER ALERT for Briscoe, who they later explained met a man on the internet on Saturday.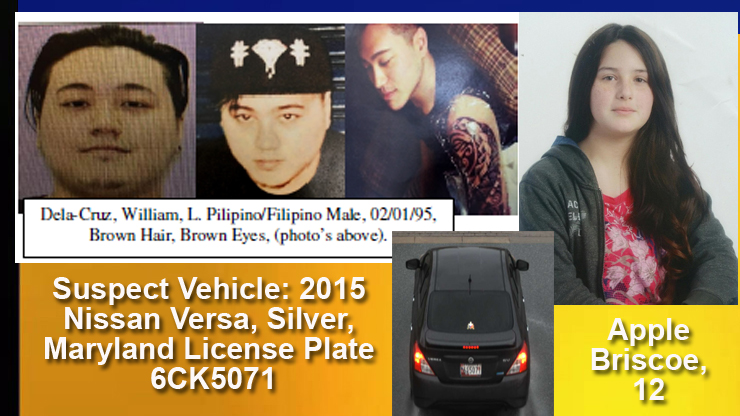 "Late last night through the Internet, she met a person through the Internet who came from Maryland and was willing to pick her up… we were able to investigate and backtrack that and early this morning we were able to get that information which led to the Amber Alert," explained Bob Muenz, Blue Springs Police Department, Deputy Chief.
Police say they believe Briscoe was with the man and his brother.
[protected-iframe id="7786657a1fe175f6838da371424463b0-28016812-38006261″ info="https://www.facebook.com/plugins/video.php?href=https%3A%2F%2Fwww.facebook.com%2Ffox4kc%2Fvideos%2F10154742795908645%2F&show_text=0&width=560″ width="560″ height="315″ frameborder="0″ style="border: none; overflow: hidden;" scrolling="no"]
"We believe that a 12-year-old girl should not be with two 20-year-old brothers. In their mid-20s. So we feel she is in danger and we want to bring her home to her family," he previously said.
Briscoe had last been seen at 2514 Northwest 6th Street in Blue Springs at 11:21 p.m., on Saturday.
Vehicle Information:
They are still looking for a Silver 2015 Nissan Versa bearing Maryland registration 6CK5071.
"The family is in our thoughts and our prayers. We do have a missing 12-year-old girl that we believe is in the presence allegedly of two brothers," said Deputy Chief Muenz. "We are asking for the community support to be on the lookout for this vehicle that is in the Amber alert so we can bring Apple home to her family."
Please call the Blue Springs Police Department at (816) 228-0151 or (816) 228-0100 if you see have any information that will assist investigators.