This is an archived article and the information in the article may be outdated. Please look at the time stamp on the story to see when it was last updated.
LAWRENCE, Kan. -- An American flag flying over KU's campus in Lawrence was removed Wednesday amidst controversy.
The flag in question is part of an art project called "Pledges of Allegiance." The flag went up on July 5. It's a partnership between the Spencer Museum and the Commons at KU's Spooner Hall.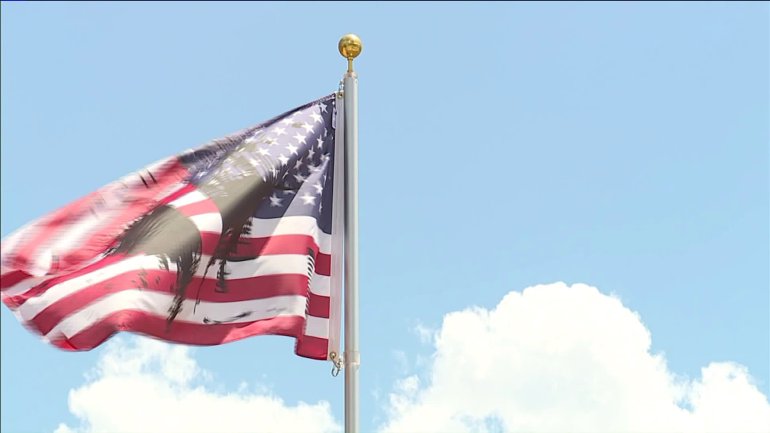 Workers took it down at about 4:30 p.m. Wednesday. According to KU's website, it was originally supposed to be up until the end of the month.
KU's Chancellor Douglas A. Girod issued the following statement late Wednesday:
"Dear Colleagues, There has been much discussion today about a public art exhibit on our campus featuring an artist's depiction of an American flag. Our Spencer Museum, along with other institutions nationally, have participated in this year-long series of exhibits intended to foster difficult conversations.Over the course of the day, the conversation around this display has generated public safety concerns for our campus community. While we want to foster difficult dialogue, we cannot allow that dialogue to put our people or property in harm's way. We have begun the process of relocating the exhibit to the Spencer Museum of Art, where we can continue the important conversation it has generated."
Art, or an act of disrespect? This flag is part of the Pledges of Allegiance series at @TheCommonsKU in partnership with @SpencerMuseum. @AlanaLaFlore #fox4kc pic.twitter.com/gUK0kbcNTo

— Alana LaFlore (@AlanaLaFlore) July 11, 2018
"To see a defacement of a flag flying right here on Jayhawk Boulevard, I don't personally like it," said Ian Ballinger, a senior at KU. " I think it's the exact opposite of what it means to call yourself a Jayhawk."
"I see it as art really. I don't really see it as disrespectful," said Dakota Collins, a Lawrence resident.
That's the question looming over this flag: Is it a creative expression or a slap in the face to America?
It was created by German-born, New York-based artist Josephine Meckseper and is one of 13 just like it at locations all over the U.S.
According to the artist's description, the black paint drippings are in the shape of a divided America, to reflect the country's polarization. The sock is supposed to represent the recent detaining of immigrant children at the border.
"It's really important to voice our opinion on that as well," Collins said. "I get the black smudges with it being divided. Like I said, we are divided right now."
"I understand what she as going for. I just wonder if there was better way to protest that than to deface the American flag on our campus," Ballinger said.
According to a KU spokesperson, the project is designed to encourage conversation about the current political climate. It's funded by private money.
Earlier Wednesday, Kansas Gov. Jeff Coyler issued a statement saying, "The disrespectful display of a desecrated American flag on the KU campus is absolutely unacceptable. Men and women have fought and bled for that flag and to use it in this manner is beyond disrespectful. I demand that it be taken down immediately."
Those demands were met, leaving some people in the community pleased. The flag was moved to the Spencer Museum of Art.
The flag was just taken down by a KU worker #FOX4kc https://t.co/1aZECBjFV6

— Alana LaFlore (@AlanaLaFlore) July 11, 2018
"Personally I would like to see it come down," Ballinger said.
"It's not hurting anyone," Collins said. "I understand there are people that fought for us in America and people that are still fighting for us now, and that's very important. I know veterans myself. But it's just a flag to me."