This is an archived article and the information in the article may be outdated. Please look at the time stamp on the story to see when it was last updated.
KANSAS CITY, Mo. -- A woman in hospice care in Kansas City voiced one of her final wishes; she wanted to go to the American Royal. On Saturday, the right people came together to make it happen for her.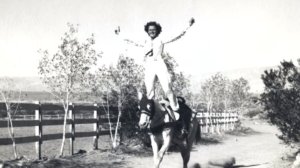 Arlene Lamar, 89, spent her life with horses. She was a trick-horse rider in her youth. She saved up her money to buy her first horse and then taught herself how to ride and then went further still and taught herself tricks! She once worked in some of Roy Rodgers' movies. The pictures show how much she loved trick-riding.
One of her final wishes for her life was to go to the American Royal's United Professional Horseman's Association (UPHA) National Championship.
The American Royal helped arrange it and on Saturday, Arlene was able to sit in the VIP section. She received a standing ovation. Watch in the YouTube video below. She's awestruck and overjoyed by the attention she received and being back among the horses she loves so much.