This is an archived article and the information in the article may be outdated. Please look at the time stamp on the story to see when it was last updated.
KANSAS CITY, Mo. — It could someday be the so-called "front door to downtown Kansas City."
It's in the heart of downtown, and some say it's hiding in plain sight. It's one of the city's best public places, and much of the public doesn't seem to know about.
But that could be changing.
"I would characterize it as an overlooked treasure," said Audrey Navarro with Clemons Real Estate.
Navarro is part of a team imagining big things for an almost invisible public plaza. Barney Allis Plaza is on prime real estate, which is obvious from 22 stories up. It sits between the Kansas City Convention Center, the Municipal Auditorium and downtown hotels.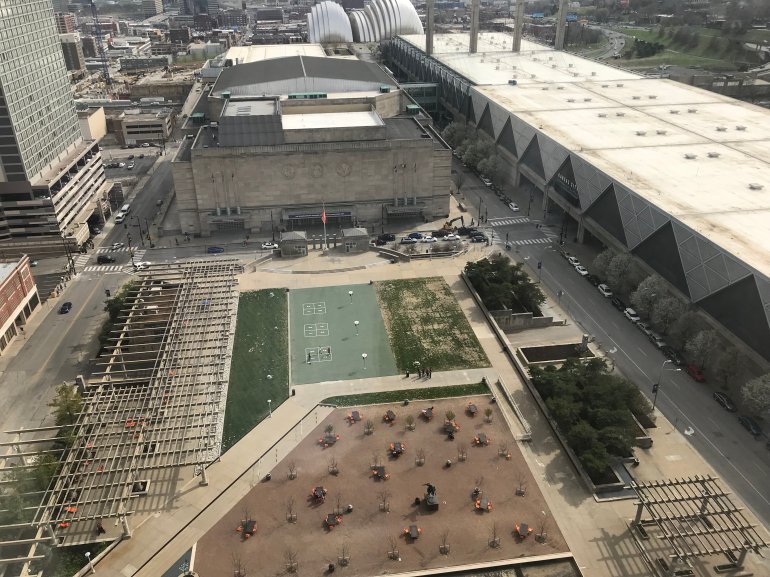 But one of the big reasons people don't notice Barney Allis Plaza is simply because they don't see it.
That's because if you're walking on a sidewalk on the south end of the plaza, in front of the auditorium, the plaza is elevated well above your line of sight.
"And our plan is really focused on eliminating those barriers, bringing the park down to a grade level that's extremely pedestrian friendly and accessible," Navarro said.
Architect Craig Scranton also helped design the $63 million renovation plan for the Urban Land Institute.
"Lowering that end and creating green space and a play yard and a performance location, multiple layers of activation, and then slowly bring up the grade to the north end and reshaping the garage down below," Scranton said.
The parking garage below the plaza is on its last legs, another reason city leaders will eventually need to consider these grand plans for the plaza.
Years ago, the Kansas City Explorers played professional team tennis here, but the team left town in 2012.
That's why these urban planners believe it's time to put people back on the plaza.
"The trend these days in urban redevelopment is live, work and play," Navarro said. "And this really offers a place where you can play downtown, not just live and work," Navarro said.