This is an archived article and the information in the article may be outdated. Please look at the time stamp on the story to see when it was last updated.
KANSAS CITY, Mo. – Animal control officers were on the scene of a large-scale animal hoarding situation on Monday afternoon, where they removed around a hundred cats and kittens from a local residence, which as a result has now been condemned.
Area residents say a woman living in a four-plex, located at 8202 N. Everton in KCMO, was renting two units in the building, and was keeping a large number of cats and kittens on the property. Authorities were alerted by a neighbor living in the complex, who reported a horrendous smell.
"It smells like cat poop in the neighborhood now. It's all you can smell in the neighborhood now," said William Hamilton, a Special Investigator, with KCMO Animal Control. "The feces were at least two to three feet high maybe four in some spots. There was food scattered across both apartments, just poured on to the floors."
Witnesses said at least four animal control vehicles were on the scene Monday afternoon removing the felines from the apartments. Residents of the building said they were asked to leave the property due to what they were told was a bio-hazard.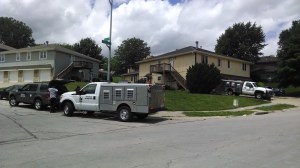 Animal control officers say the woman who hoarded the cats is facing at least seven different charges, including animal cruelty and lack of vet care. They say the apartment is being condemned, and the structure will most likely have to be torn down.
The KC Pet Project said they were in the process of receiving anywhere from 100-150 cats and kittens on Monday. They said several of the cats and kittens were ill and would require extensive treatment. They also said many of the cats were pregnant, and several kittens would require bottle feeding. The organization plans to care for the animals, and plans to find foster homes for the cats who are socialized until they can be adopted into permanent homes. The cats which are not considered social, will be cared for and made available for adoption as barn and outdoor cats.
"We need our community's emergency help now more than ever to help us provide medications, healthy food, and daily care, as well as adoptive and foster homes for all of these cats and kittens from our community," said Teresa Johnson, the CEO/Executive Director of KC Pet Project, in a news release on Monday. "The KC Pet Project has already received nearly 80 cats and kittens at the shelter in the past week and large-scale hoarding cases like these put a huge strain on our organization to care for so many animals at one time."
The Kansas City Pet Project is asking for donations to aid in the cost of care for the cats. If you would like to help, please call the shelter at (816)513-9818 or visit www.kcpetproject.org/donate. To view the organization's website and pets available for adoption, CLICK HERE.
Download the fox4kc app to stay informed FOX 4 Android app | FOX 4 iPhone app
Earlier coverage: