This is an archived article and the information in the article may be outdated. Please look at the time stamp on the story to see when it was last updated.
OLATHE, Kan. – High school football players from across Kansas and Missouri came together Friday for a football tournament with an important message.
Shawnee Mission West High School hosted the 5th Annual Andre Maloney 7-on-7 Tournament on Friday. Sixteen teams from two states came together to play in an event named after a standout player from the district.
Maloney had a stroke after scoring a touchdown for Shawnee Mission West during his senior year of high school in 2013. Paramedics tried to save him, but it was too late.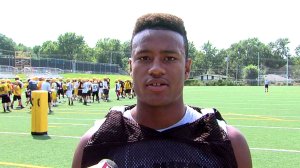 "You don't really realize things like that until they happen to you," Shawnee Mission West Head Football Coach Tim Callaghan said.
After Maloney's death the school district changed the name of the tournament and worked with the teen's mom to use the event to bring awareness to stroke and stroke prevention.
"Kids should know that if something is going wrong with the body, they need to communicate with a parent, a coach or anybody. My son is not here today. If he communicated what happened to him that week, maybe he still would be playing," Maloney's mom Rosaelida Montoya said.
Now, Montoya sells shirts with the phrase "Make It Big" printed on them during the tournament. Maloney's memory will live on through all who wear them, and the proceeds from shirt sales will be donated to the American Stroke Association.
"He really enjoyed to be in this community and loved to be in this environment, and he always felt loved," Montoya said.
After the tournament,  Maloney's mom led a short stroke awareness walk around the school campus in her son's honor.