This is an archived article and the information in the article may be outdated. Please look at the time stamp on the story to see when it was last updated.
KANSAS CITY, Mo. -- Flames consumed a large portion of an apartment complex and nearby vehicles on Kansas City's southside early Tuesday morning.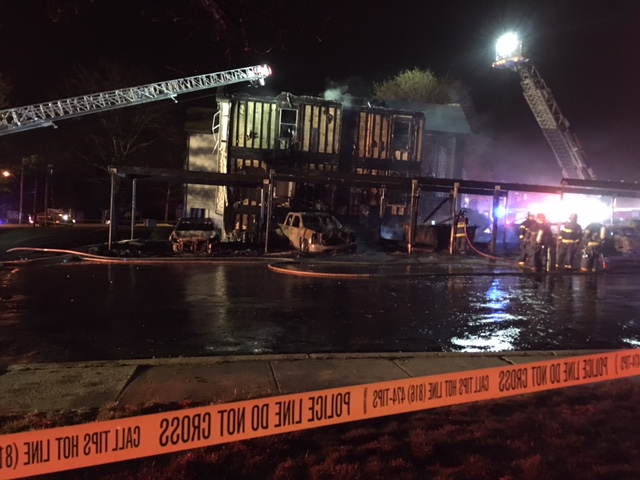 The three-alarm fire appears to have begun on the side of the Coach House Apartments around 3:30 a.m.
Many neighbors said when they woke up, they saw the vehicles in the carport engulfed in flames.
One neighbor tells FOX 4 she woke up to a popping sound and initially hid, thinking it was gunshots.  She says she then called police, and they told her it was actually a fire and she needed to get out of the building.
Other neighbors also say they heard popping sounds, similar to fire crackers, before seeing flames.
The 20 to 30 victims who were displaced have been moved to the Red Bridge YMCA at Holmes and East Minor. Those evacuated from neighboring buildings have since been allowed back into their homes.
Jacque Mitts says she was working on her computer about 3:30 a.m., because she works nights, when she noticed flickering lights. Jacque says at first she thought it was emergency lights, but when she looked outside she noticed a pickup truck on fire.
Jaque says by the time she alerted her husband, their blinds were already melting.
"It was like an inferno out there," Robert, her husband, said while getting understandably emotional. "It was crazy. But when I got up, Jacque was looking out the window, and she just saw the truck out there, she didn't see the whole thing because it was blazing the whole canopy out there, the parking canopy was blazing."
You can watch Matt Stewart's full interview with the couple below.
Firefighters say fireworks likely started the fire.
A manager with the apartment complex says as of right now, she has not heard of any injuries.
FOX 4's Nicole DiAntonio spoke with a mom who says she is thankful she was able to get her children out safely.
"I was really scared," Alexis Robinson said. "My first thought was just to get my kids safe and out of the apartment. I didn't know where it (the fire) was coming."
Robinson recalls hearing a man screaming around the time the fire broke out.
You can watch Nicole's full interview with Robinson below.