This is an archived article and the information in the article may be outdated. Please look at the time stamp on the story to see when it was last updated.
KANSAS CITY, Mo. — If you've never seen a brass sculpture of a deer with saxophone parts for legs and French horn pieces for antlers, you should start planning to make the next "Art That Blows" event.
"Art That Blows" is a benefit auction for the charity, Band of Angels, which is a partnership between Meyer Music and FOX4.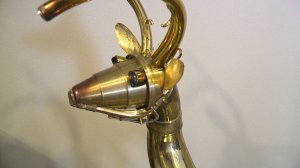 Band of Angels collects donated musical instruments and distributes them to metro kids who might now otherwise have access to an instrument.
"Art That Blows" features wildly imaginative works of art with re-purposed pieces of clarinets, flutes, saxophones and anything else that honks or strums.
The proceeds from the highest bidder not only provide musical instruments for students but also helps to finance scholarships for summer music camp.
Hallmark provides much of the creative brainpower for "Art That Blows." Many of the designs are the creation of designers at Hallmark who are able to work on the art pieces during company time.
"One of the ways that the art community and creative community at Hallmark helps out is through what we call 'My Five Days'," Hallmark's Sabrina Wiewel said. "They all get five days that they get to pick to do whatever they want with. So what they do is take these old instruments and make these wonderful works of art."