This is an archived article and the information in the article may be outdated. Please look at the time stamp on the story to see when it was last updated.
KANSAS CITY, Mo. — The flu is still running rampant around the Kansas City metro area. Making matters worse, the most popular medication to treat the virus is getting harder to find.
With the flu so bad, Tamiflu is flying off shelves, so FOX4 did some digging to find out what you should do if you can't find the medicine at your local pharmacy.
Between the fever, coughs and sneezes, the flu virus is no fun.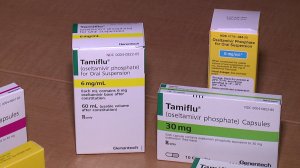 "We still don't know if it has peaked yet, unfortunately," said Dana Hawkinson, an infectious disease specialist for the University of Kansas Health System. "That'll just have to be something we wait for."
Tamiflu is one of the first lines of defense. Many doctors prescribe the anti-viral medication, or its generic version, to help kick the illness to the curb quicker and limit the damage it does.
"In general, it can also help in hopefully preventing further severe disease from influenza, which is very important in preventing hospitalization and death," Hawkinson said.
The University of Kansas Health said its hospital pharmacy has plenty of Tamiflu in stock, but the popular medicine is running in short supply at many area pharmacies. One mom shared that every pharmacy within 15 miles of her home in Liberty was sold out of the liquid form of Tamiflu.
Most national chains said they have plenty of the pills, but at times, spikes in demand for the oral suspension can wipe out supply.
If you run into that issue, there are a couple of other options.
"Always symptomatic therapy, so Tylenol, hydration, things of that nature are very important," Hawkinson said. "You should try to get influenza therapy where you can. If there are shortages around, there are two other drugs approved for influenza, one is inhaled and one is an IV drug."
A viral social media post also suggests the combination of the two over-the-counter medications — oscillococcinum and black elderberry — can be a big help. Although they might work for some, doctors warn there's little scientific proof they help.
The best option is to do everything you can to avoid getting sick.
"Vaccination's important. Hand hygiene, and also remember to cover your cough. Those are very important things," Hawkinson said.
And if you can't get the liquid form of Tamiflu and have small children who can't take pills, the CDC has an instruction sheet on how you can safely break open the capsules and mix with a liquid like chocolate syrup, helping to sweeten your little one's road to recovery.